This week, I'm reviewing a pair of Lululemon's bestselling men's activewear shorts - License to Train Shorts.
Lululemon has two styles of training shorts in their men's athleisure collection. The popular Pace Breaker and Surge shorts are for running. The License to Train Shorts are for more general-style gym training.
We make some pretty good shorts too. We're going to see how they stack up to our brand's Active Workout Shorts. Let's get it.
The Tale of the Tape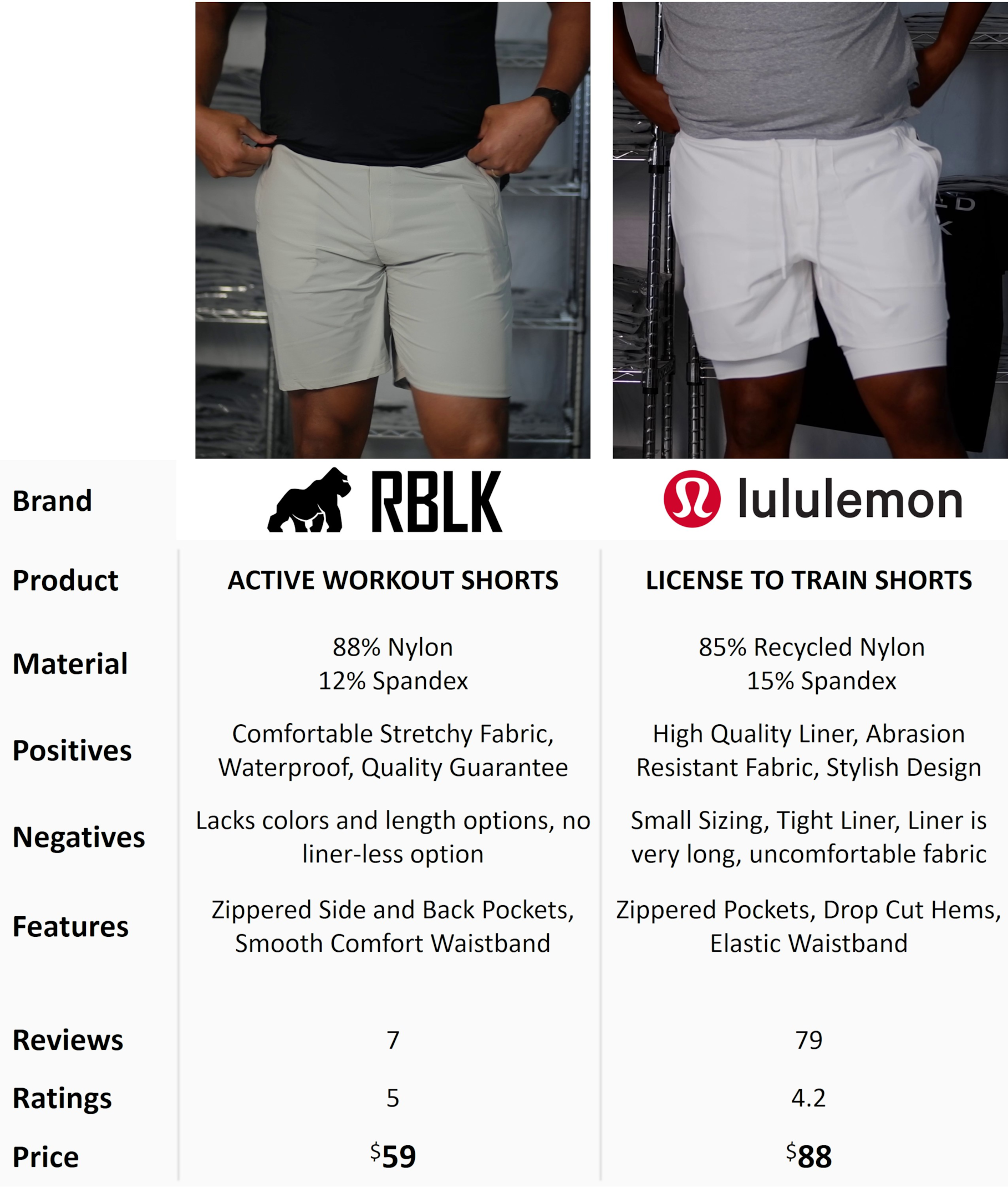 License to Train Shorts by Lululemon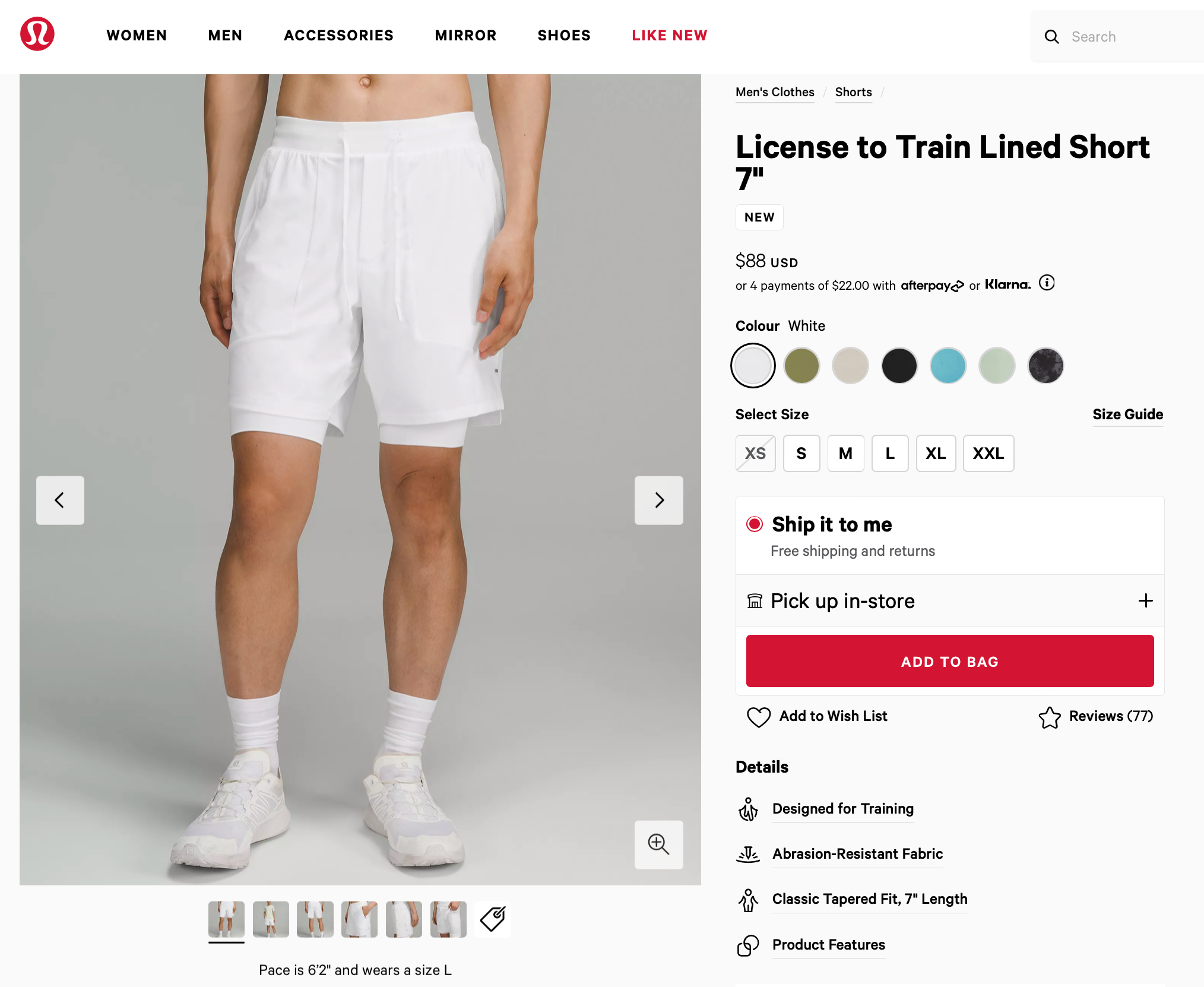 Price (License to Train)
$88
At $88, the License to Train Shorts is $20 more expensive than the Pace Breaker running shorts. But $40 cheaper than the License to Train sweatpants.
Reviews (License to Train)
79 reviews with a 4.2 rating
The reviews are good. The negative reviews centered on a few common themes – cheap feel, restrictive fit (especially the liner), and durability aside from wear and tear.
The Good:
"The quality of material is great, but the liner is too tight"
"The quality is even more insane and the under liner is so comfortable and flexible, it's great for working out or just lounging. They look great too."
"Great shorts, a little pricey, the outer material could be a little softer. They look high quality."
The Bad:
"I had high hopes. Cheap feel and design for the price point."
"Nice shorts overall but I usually wear a medium in other Lulu shorts and this one run pretty tight."
"The material is much lighter, and honestly, cheaper feeling. There is no more elastic/mesh/dri-fit aspect on the inseams"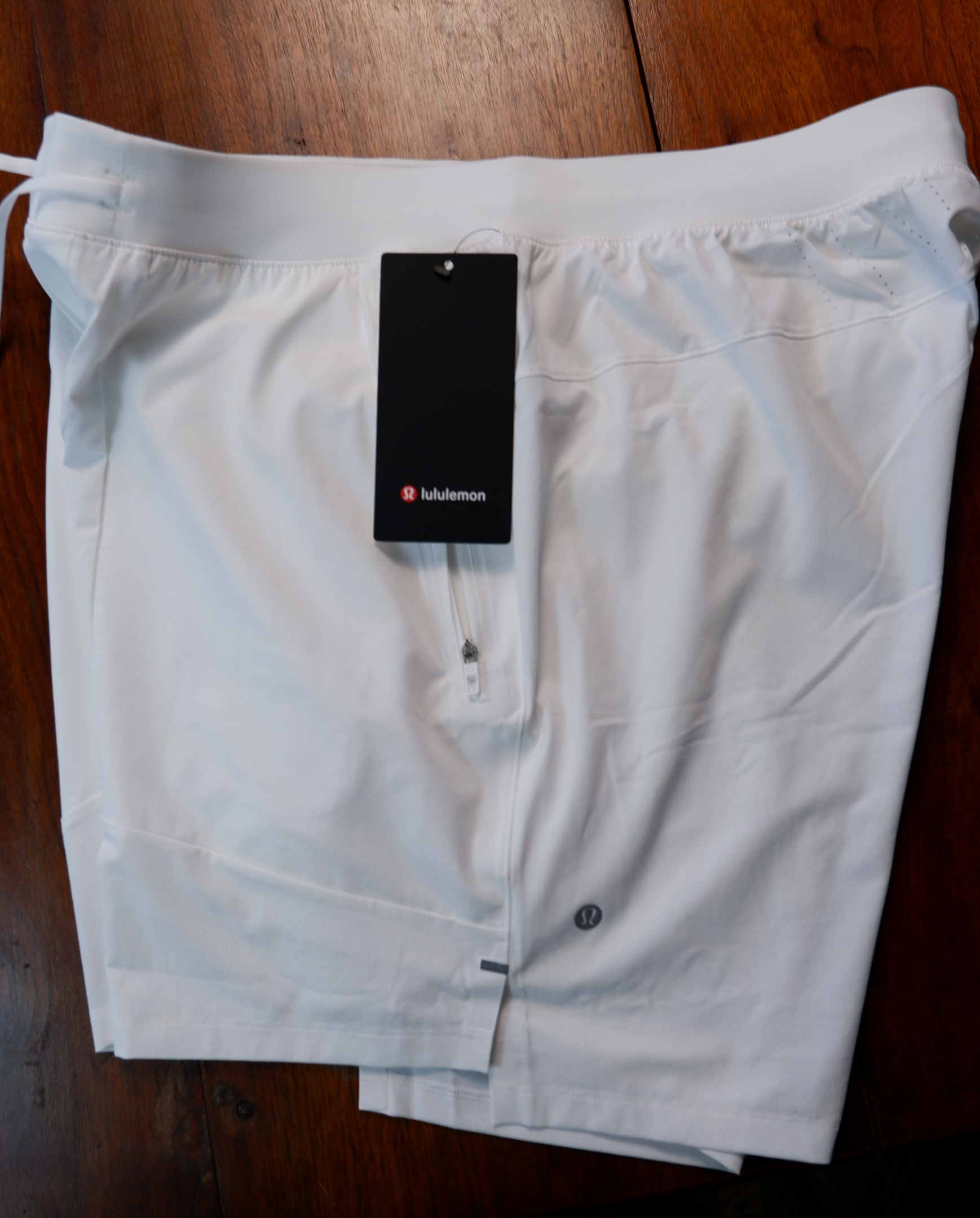 Selected Reviews
My opinion is slightly negative. 3 out of 5 stars.
If you are a Lulu brand fanatic, there's a lot to like. They have a cool athleisure style with the drop-cut bottom. The thoughtful design including the zippered pockets and reflective elements are high-end. Their strong brand represents quality and exclusivity (mainly due to price).
Still, I don't rate these as high as other athleisure brands such as Ten Thousand's Interval shorts (4 out of 5 stars). Or our Active Workout shorts. Both of which have better fabrics.
Three reasons for my negative assessment (echoing many of the 2- and 3-star reviews):
Tight fit (especially for bigger guys) (minus 1 star)
Rough fabric (minus ½ star)
Subpar value (minus ½ star)
Fit and Feel (License to Train)
I'm 6'3" 260 lbs. The combination of my tall height, large midsection, and thick thighs means I'm pushing XXL in most brands I wear especially sports-focused brands such as Nike, Adidas, Under Armour, etc.
I wear gear from many athleisure brands. Lululemon designs some of my favorite styles overall. But it's safe to say I'm not their "ideal customer" or body type. Especially for most mesomorphs or endomorphs. I understand given they were founded as a yoga brand.
The size chart is terribly inaccurate. Their gear is cut incredibly tight. Even with their loungy sweatpants.
My recommendation for these shorts is to size up.
If you are a smaller guy with any semblance of a leg muscle and plan to use these for intended gym use, I would recommend sizing up.
For bigger athletes either around the waist, thighs or height, size up. Sizing up also solves the tight inside liner problem found in some of the critical reviews.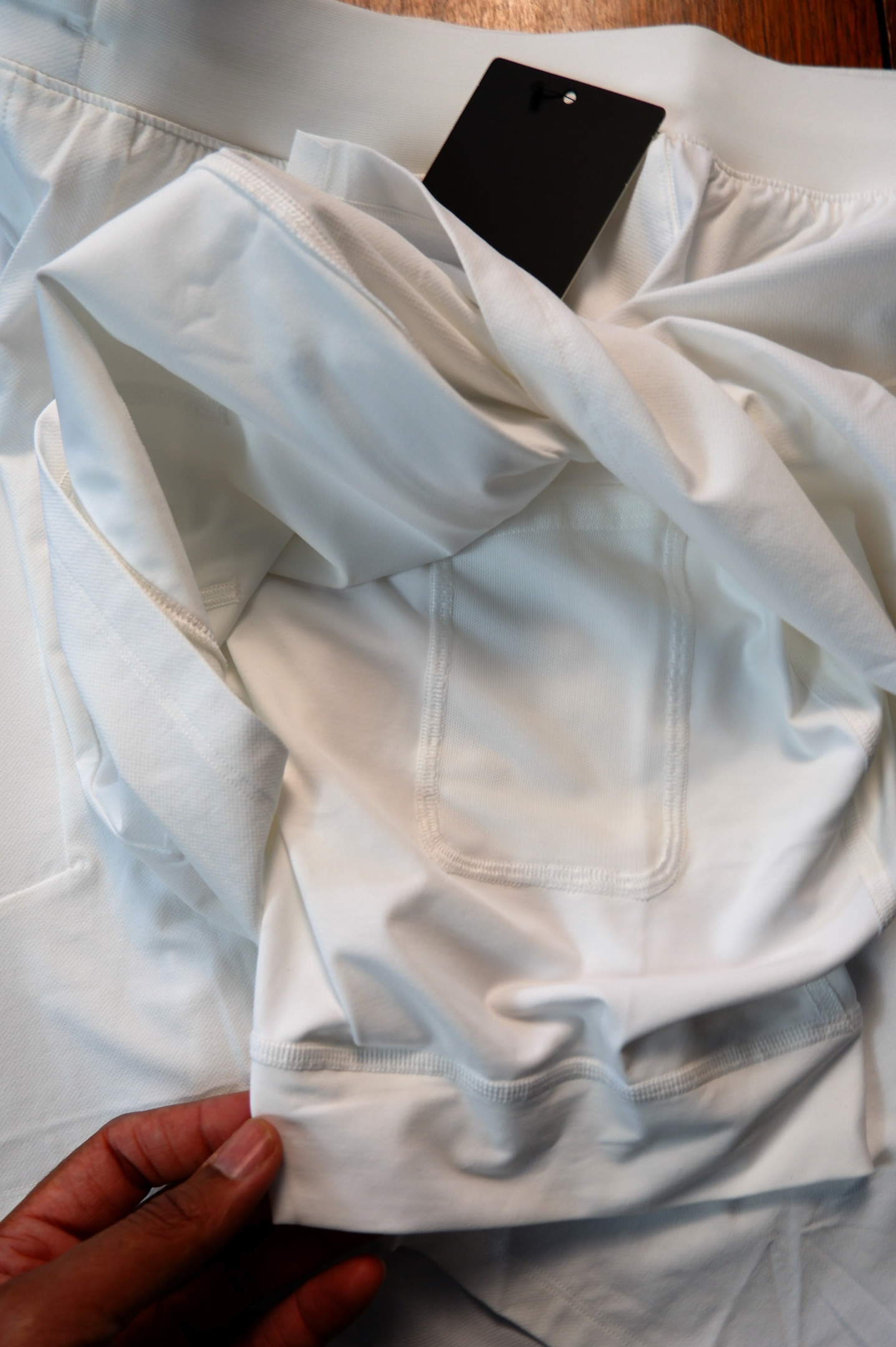 The License to Train Shorts are not comfortable athleisure shorts. The fabric used in these used wasn't designed to be comfortable. It's supposed to be rough and abrasion-resistant. It feels like cheesecloth.
The main fabric of the License to Train Shorts is a nylon spandex blend– 85% recycled nylon and 15% spandex (body) and polyester for the liner.
My first wear impression of this fabric was surprising. I expected these shorts to be more comfortable. If you look closely, you can see the texture. It's more akin to a cheesecloth than a comfortable fabric.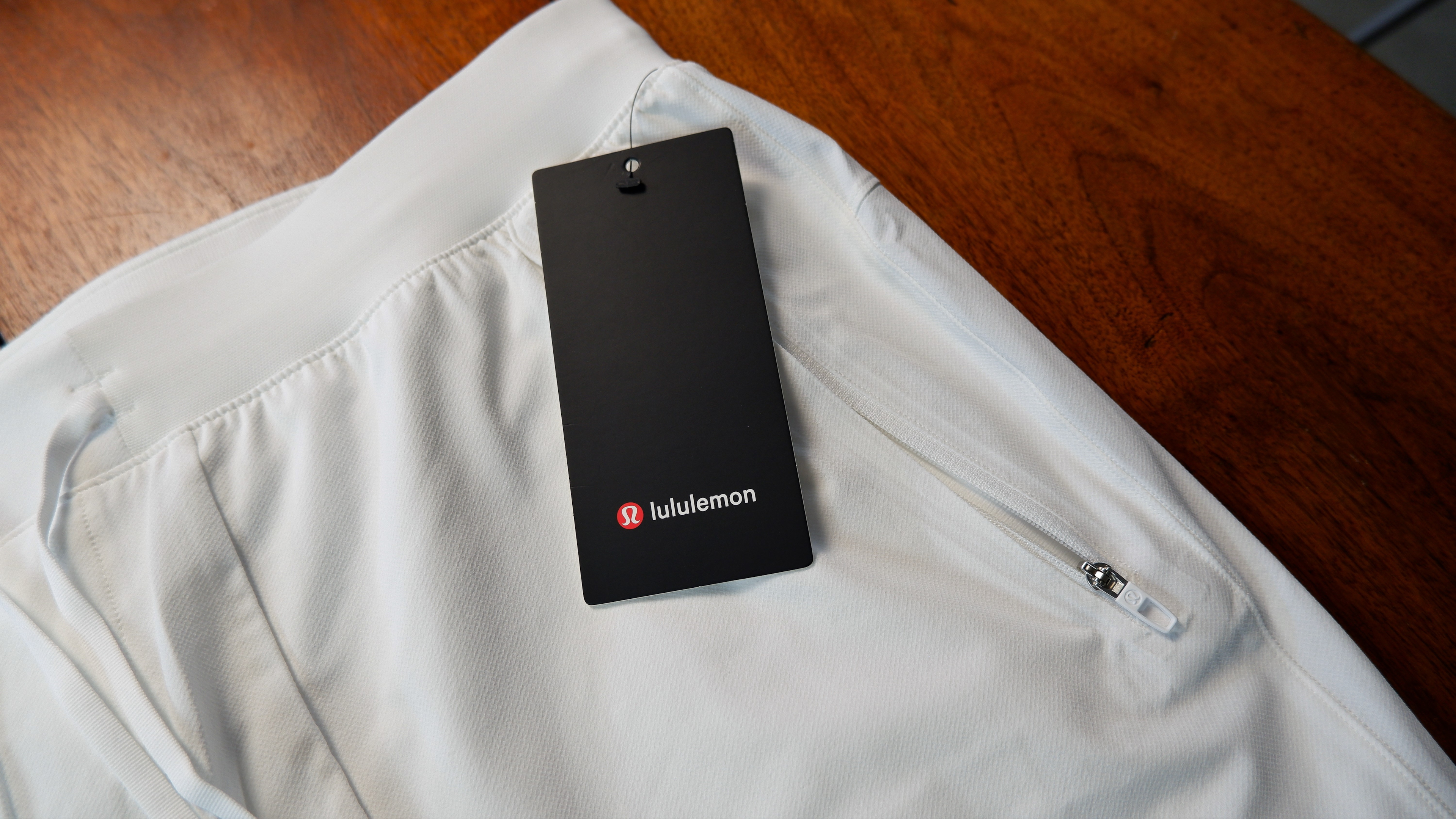 Browse their website. The Details section will tell you what the fabric feels like.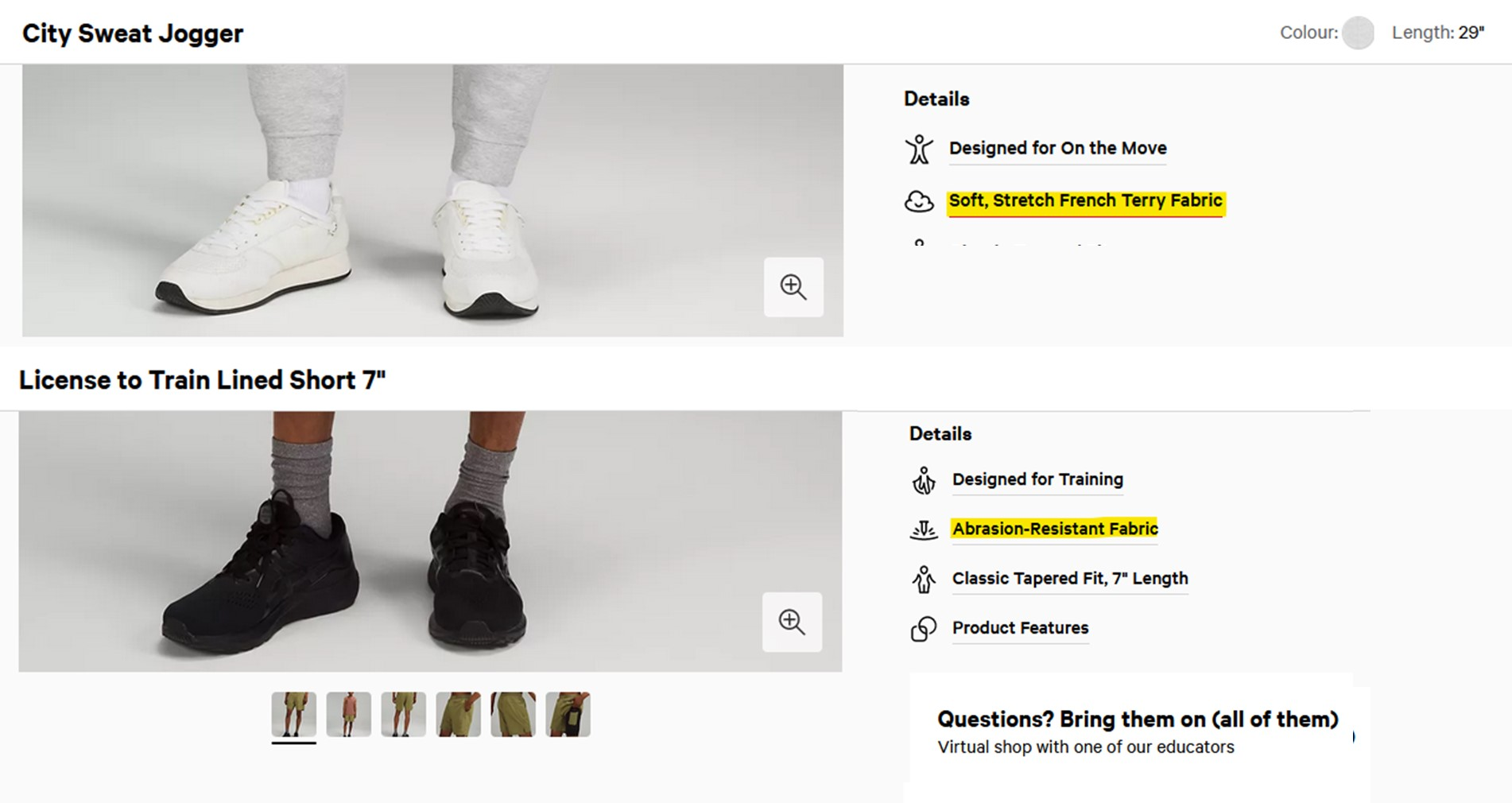 Design & Use (License to Train)
Made for general and interval training, the License to Train shorts are designed for style and performance.
There are four commandments required for all my workout shorts.
Don't Restrict My Workout Movements
Be Made of Lightweight, Breathable Fabric
Have at Least 2 Zippered Pockets
Withstand 40-50 Washings (6 Months)
Unfortunately, these shorts only tick one box for me—zippered pockets. I don't award many fashion or style points just because it's athleisure.
My XXL License to Train Shorts were very tight and restrictive around my waist and thighs. I couldn't do my usual sumo knee-to-hands warm-up.
Despite incorporating a few breathability features such as laser cut holes and drop-cut bottom, the fabric was not as breathable or lightweight as I hoped. It's a trade-off they made making these shorts more durable and technical.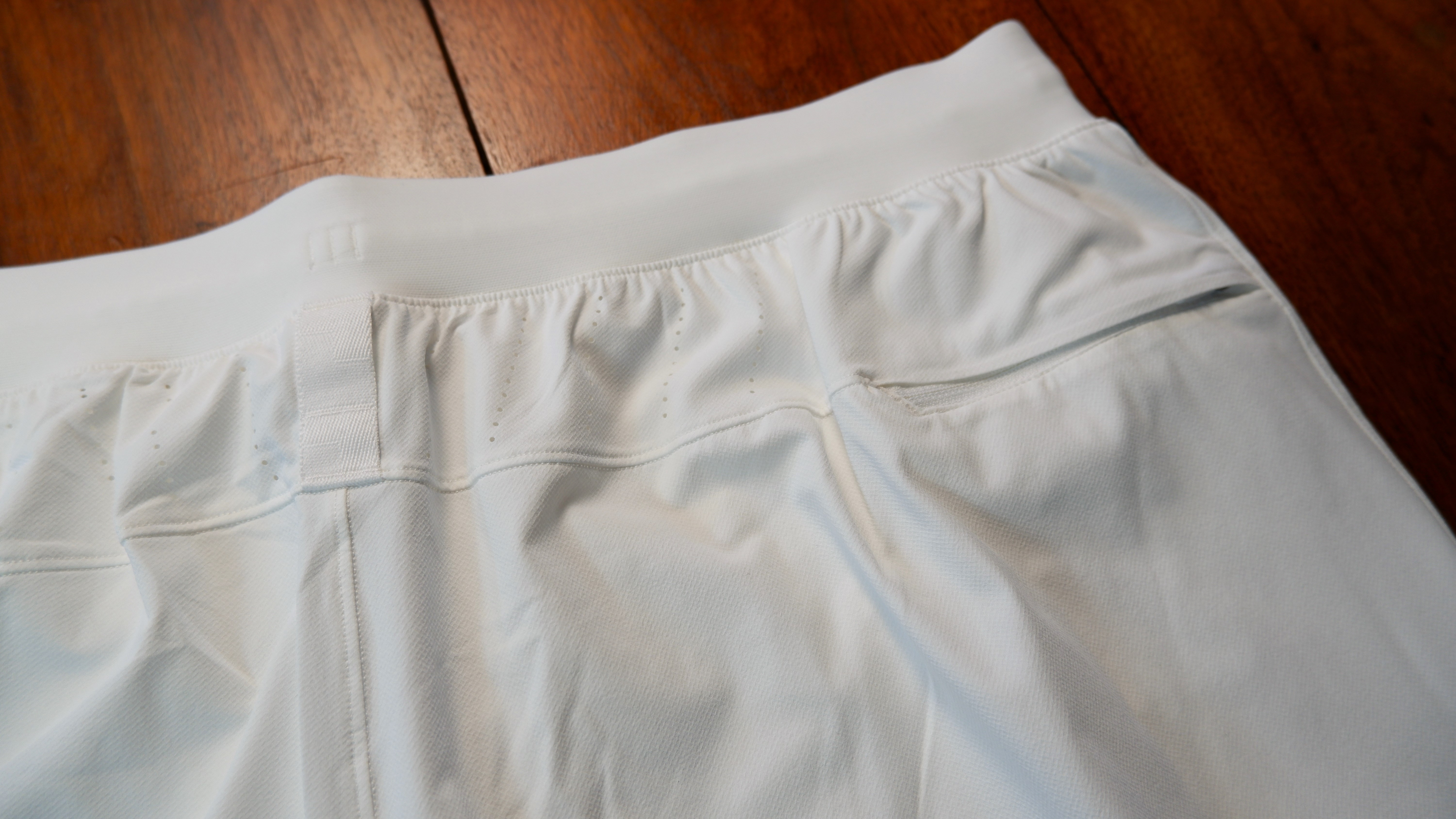 The style of these shorts is where this product (and company) shines. The zippers look premium. The drop-cut looks nice. The biggest issue is whether you think it's weird that the liner is longer than the bottom of the shorts. It's an athleisure design choice that's either hit or miss.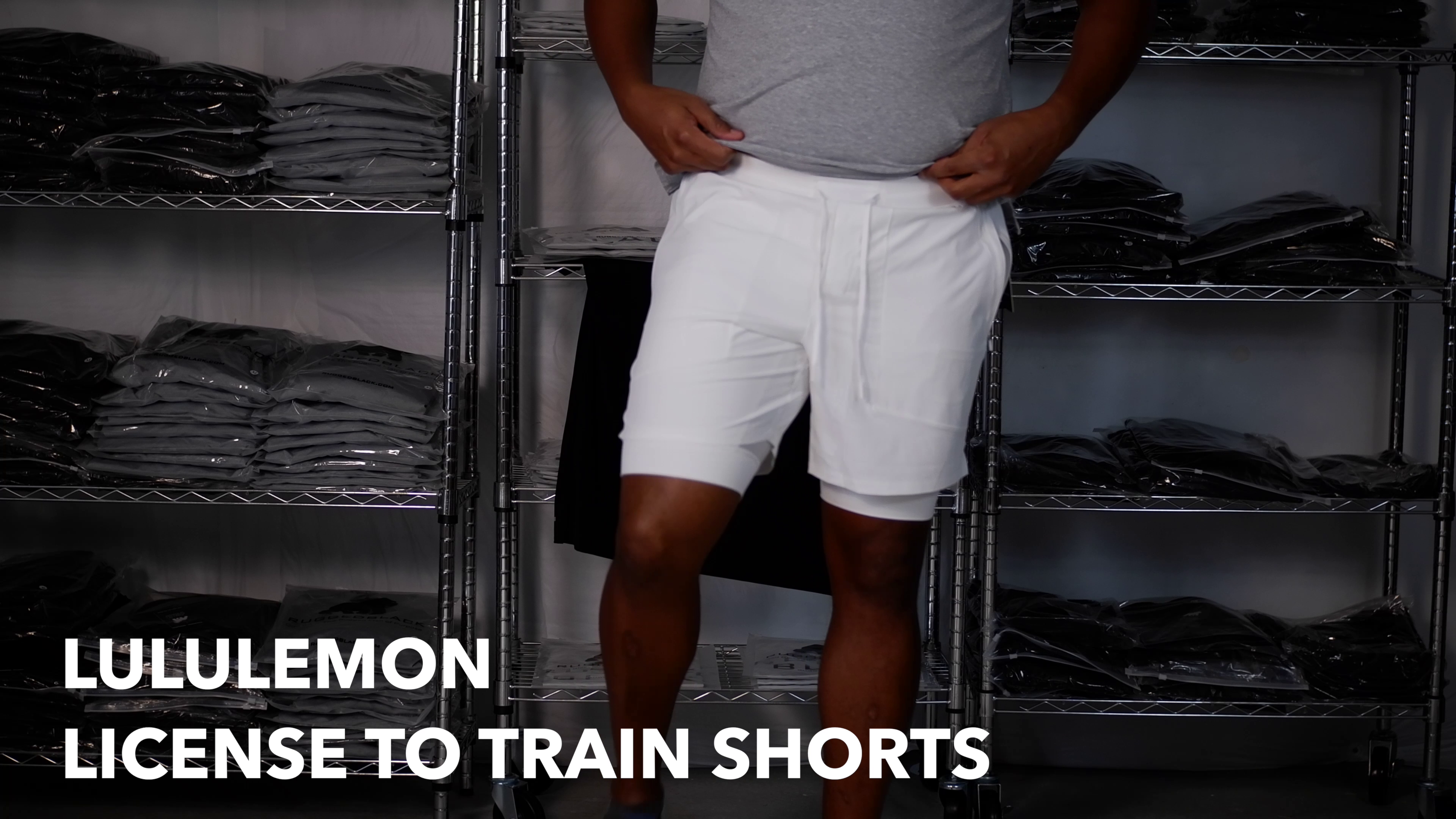 As you can see, the liner is a full 3-4 inches below the bottom of the shorts. I didn't like it too much. It looks like my underwear is too long. But for the people who like this look, the benefit is you don't have to worry about your shorts riding up.
The other style design elements such as the reflective tabs on the legs, premium Lululemon zips, drop-cut bottoms make these shorts a stylish choice for the gym.
Features of these shorts include three zippered pockets (2 side, 1 back), an inside-or-out drawstring, and laser-cut holes around the hip. The front of the shorts have the same front pocket panels as the ABC Joggers and License to Train Joggers. Which disguises the pocket protrusion from under the garment.
Summary (License to Train Shorts)
The License to Train Shorts are great gym shorts if you want something durable and stylish with a little bit of stretch. With that being said, they are not the most comfortable shorts. The fabric is scratchy and not very stretchy. And the price is well…Lululemon prices.
They belong in the top-tier of premium activewear gym shorts. But there are better options at a better value.
If you loved the shorts, you loved the design, the tight compression long liner, and abrasion-resistant fabric.
If you hated them, you hated the rough main fabric, tight fit, and durability.
The License to Train Shorts have over 12 color options (or patterns) , both liner and liner-less styles, and different length options. I even saw that they recently added a XXXL option!
Active Workout Shorts by Rugged Black 
Price (Active Workout Shorts)
$59
The Active Workout Shorts cost around 33% less than Lululemon's License to Train Shorts. Which equates to about $30 savings per pair.
Reviews (Active Workout Shorts)
7 Reviews with a 5.0 Rating
The initial reviews are stellar with them all being 5-stars. Although not as many reviews as Lululemon gear, as we launched over a decade after Lulu, all of our reviews are verified as actual customers.
We also stand behind all our products with a money back guarantee, free returns and exchanges.
The Good (5-star reviews):
"These shorts are the best I've found by a country mile…Moves great, feels soft, and breathes"
"Dig these shorts…Lightweight and comfy."
"I never knew that wearing the right pair of shorts can have such a dramatic effect on my workout until I tried out the active shorts."
The Bad (1-3 star reviews):
No negative reviews to date.
My areas of improvement for this product…add dedicated phone and key pocket on the inside, add more color options, and add liner-less style.
Selected Reviews
Fit and Feel (Active Workout Shorts)
After testing each pair of shorts, both Lululemon's and RBLK's, there are two key differences – the fit and the fabric.
Our shorts are made of a 88% nylon and 12% spandex blend. There is only a 3% difference between our fabric composition (3% more nylon) compared to the License to Train Shorts (3% more spandex).
But the feel couldn't be more different. The License to Train feels rougher and more durable. While the Active Workout feels softer and more breathable. I've often described our shorts as feeling as reinforced silk.
Second, the fit. The License to Train Shorts are painfully restricting. Especially for me as a weight lifter. The Active Workout Shorts gives me a bit more room to squat, stretch, etc. It's better for bigger guys (above 215 lbs. or muscular legs). Although, we've gotten feedback our sizes run too big. For reference, I'm 6'2" and 260 lbs. I carry more of my weight up top.
I wear an XL in RuggedBlack and XXL in Lululemon.
In most brands, I'm at the outer edge of the size chart. Whereas with RuggedBlack, I can still go up (but hopefully down) a size.
I wore the Active Workout shorts exclusively for two weeks' worth of workouts. I wanted to rate them based on my four commandments/requirements from above.
The Four qualities of the perfect gym Shorts:
Don't Restrict My Movement
Be lightweight & breathable
Have 2 zippered pockets
Withstand 40-50 washings (or 6 months)
Of course, the Active Shorts checked all the boxes. I create them to.
They're lightweight and breathable, have a compression liner to keep me dry and comfortable, and don't restrict my movement at all. I don't do much interval training, but these shorts are perfect for it.
I've tested these shorts playing basketball, weightlifting, yoga, running, and lounge. Will keep you cool throughout. After the testing period, I immediately threw away all my other gym gear. There was no use keeping them. I couldn't go back.
Design & Use (Active Workout Shorts) 
Like the License to Train Shorts, the Active Workout shorts are made for "All Hell Breaking Loose, Lightweight Baby" workouts.
Whatever you throw at these shorts, going for a run, Crossfit training sessions, hooping, yoga, etc., these shorts will provide superior mobility, flexibility, and comfort throughout.
These shorts will replace every workout shorts in your closet. Guaranteed.
The style is minimalistic. Some features include 3 zippered pockets (2 side, 1 back), a smooth comfort waistband with drawstring, compression liner, and waterproof fabric.
Summary (Active Workout Shorts)
Our Active Workout shorts have three major advantages over the License to Train Shorts.
More comfortable fabric
Better waterproof finishing to keep you drier
More generous, less restrictive sizing
Don't let the substantially lower prices trick you into thinking you are sacrificing quality. These athleisure shorts are the perfect upgrade to your gym attire.
The Verdict
I'm reluctant to call the Active Shorts an alternative to the Lululemon License to Train Shorts. To be an alternative, both products must be comparable. The Active Shorts are just flat-out better shorts for most consumers.
That's not to say that the License to Train shorts are subpar. They are a worthy upgrade over cheaper, mesh basketball shorts from other athleisure brands or companies (i.e. Nike). They have a great style and abundance of color, length, and liner options.
If you wear a lot of Lululemon and like style and brand, the License to Train won't disappoint. Great style and design. But expensive for what you get.
If you wanted to try a pair of our Active Workout Shorts, there's a money-back guarantee if they aren't the best gym shorts in your closet.
Use promo code LTTS30 for 30% off a couple of pairs.