Today we are reviewing and comparing two of their most popular active shorts—the Pace Breaker and T.H.E. (Train Hard Everyday) shorts. Are they worth $78? Let's find out.
If you read this review and wanted to try a pair of our premium athleisure activewear shorts, use promo code: (LUPBTBP30 for 30% off). Free returns, risk-free trial.
Lululemon is the gold standard for premium activewear. Lululemon offers around a dozen styles for your gym sessions—Pace Breaker, Balancer, Hike to Swim, Fast & Free, License to Train, Surge, etc. We've reviewed the License to Train shorts in a previous post.
As a fitness enthusiast and activewear entrepreneur, I wear a lot of Lululemon. Not just because I love evaluating the competition. I learn so much wearing their gear during gym sessions.
Men start their gym shorts search with the most well-known, established brands. I create these reviews for two reasons. Help men find the best shorts. Save them money. I hate having to drop $100+ just to see if a product works for me. I do it, so you don't have to. I also relish the opportunity highlighting how our competing product is better (or worse).
Today, I'm evaluating two of Lululemon's most popular workout short styles--the Pace Breaker Short and T.H.E. Linerless Short. Billed as the best workout shorts, I put both gym shorts through the ringer.
We are going to dive into their performance, comfort and style, and value. As always, we will see how they stack up against our most comparable offering. In this case, it's our Active Workout Shorts.
Leggo!
The Tale of the Tape
Lululemon Pace Breaker Short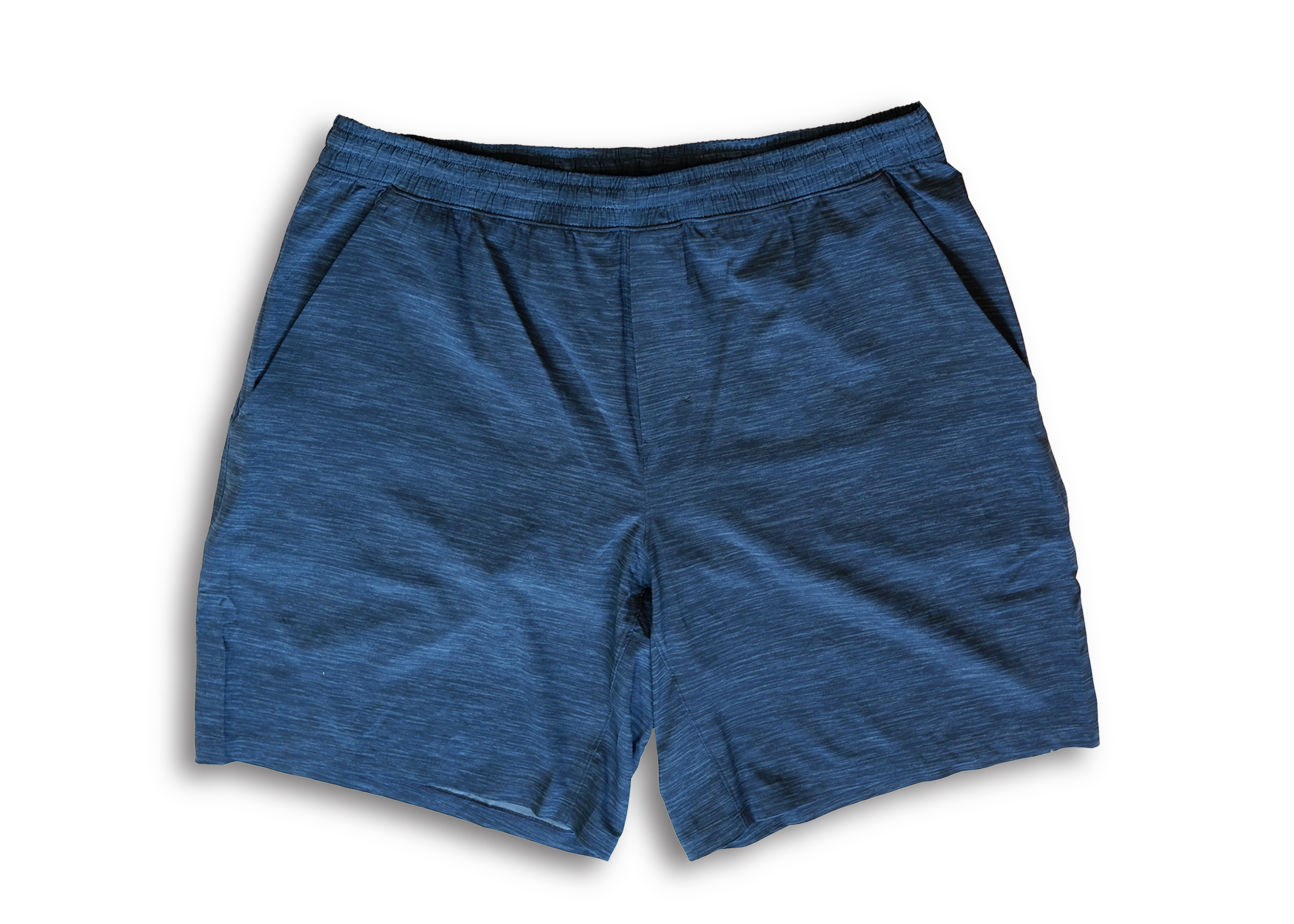 Price
$78
For reference, here are the prices of some competitors.

Reviews
64 reviews with a 3.7 rating
At the time of writing, the Pace Breaker shorts only have 64 reviews. This tells me Lululemon reset the reviews. The earliest review was from March 2023. They've been on the market for much longer than that.
This makes sense. Lululemon did a significant update to the Pace Breaker Short in three main areas – more generous sizing around the thighs, change in liner material, and change in the liner size.
Combing through the reviews, customer sentiment leans negative on the new product update. They prefer the old version that had more support. But if you are new to this product, you don't know what you are missing.
The Good (5-star reviews):
"They're always worth every penny, great fit. Great to run in, great for yoga, great for hiking, I've used these shorts for years."
"The fabric stretches so well all around. The short is very versatile, worn at the beach, by the pool, working out, casually, with a nice dress shirt for dinner and drinks."
"I own multiple pairs. The lining especially is great, better than wearing boxer jock or anything like that underneath. They look great too."
The Bad (1-3 star reviews):
"They barely fit; again my size has not changed, my dress pants and jeans all fit the same but I can barely move in these. I was convinced I mistakenly bought the mediums so I went home and pulled out the tag from the trash and it was a large. So I guess lulu says I'm fat now."
"The updated liner has a horrible feel compared to the originals, and almost squeaks rubbing on the skin. It weird. I hope they go back to the original liner material."
"I work in the retail industry and I can easily tell that the new version of these pace breaker shorts is very bad. It seems like the measurements when developing these shorts were wrong. I'm not sure if it was the fabric or a mistake from the factory but definitely something went wrong."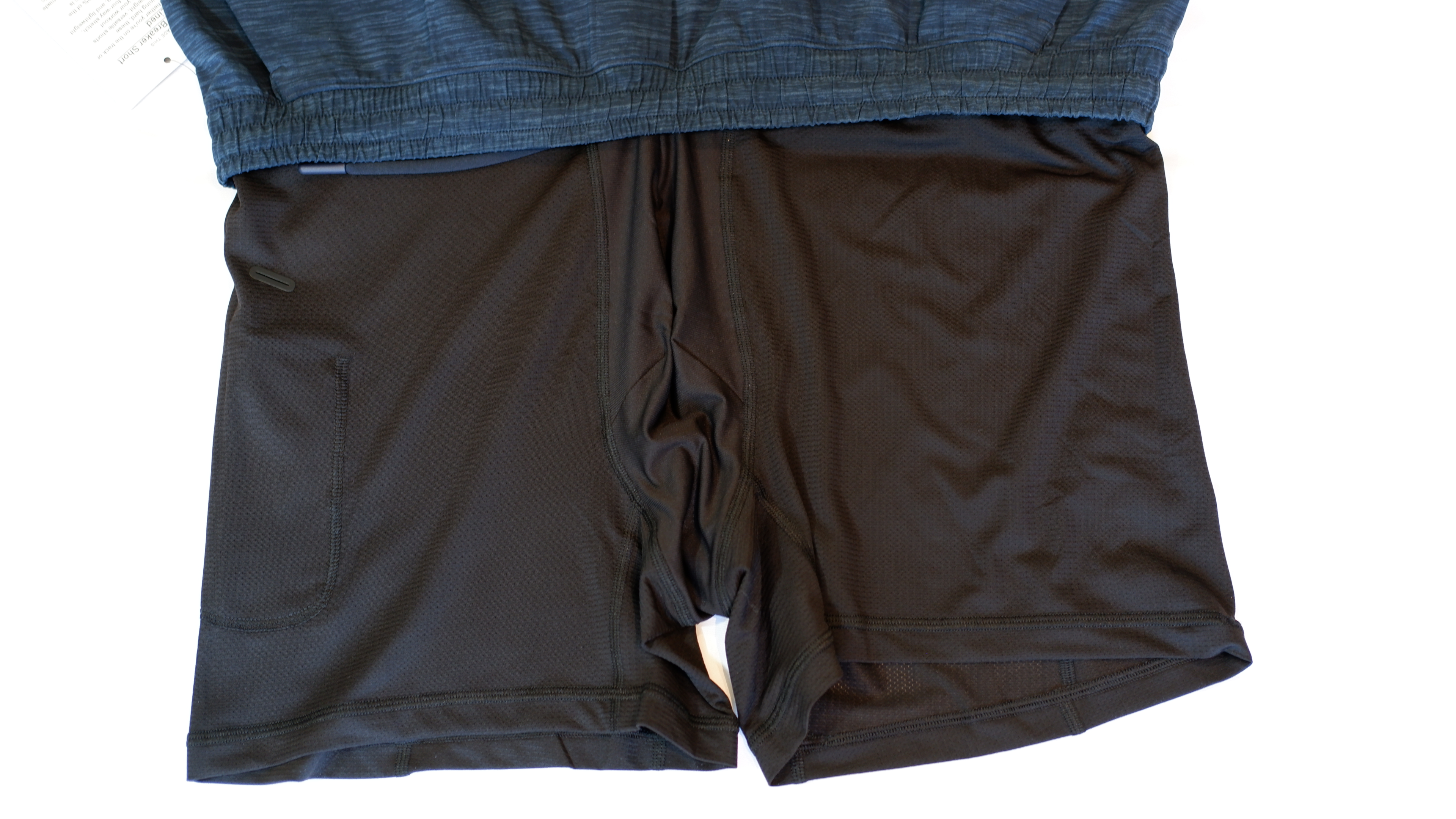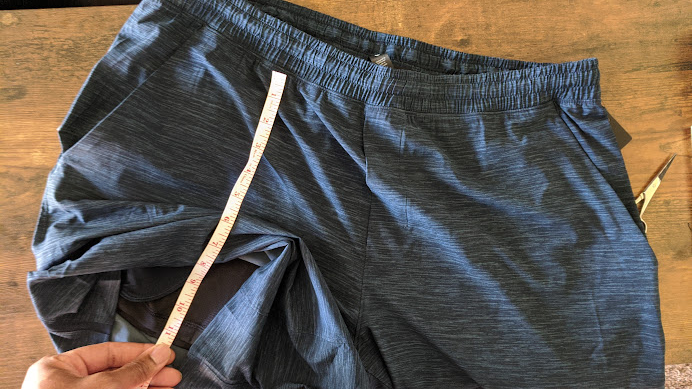 The Fit and Feel
I'm a stocky guy with big legs. Like most high-end activewear brands (Vuori, Ten Thousand, etc.), Lululemon gear is tight on me especially the liners. But Lululemon in particular is starting to come around. They are starting to expand their size chart to include XS and 3XL options and different inseam lengths in some styles.
I always give the recommendation, if you are a tall guy above 6'1, opt for one of two inseam lengths-- 7" and 9". I feel both offering a superior level of coverage. Thankfully, the Pace Breaker Shorts come in 3 inseam lengths.
If you are a bigger guy above 230 lbs., size up from what you usually wear in more mainstream brands such as Nike, Under Armour, and anything from Amazon. Unfortunately for me, I fit into both categories. So my colorway and sizing options are very limited.
One of the Pace Breaker shorts biggest updates is the liner. Compared to the previous version, the updated liner is roomier. That tout the liner giving you a full range of motion compared to the previous version.
Whether you love or hate the update depends on your build. Bigger guys love it. Slender guys hate it. Some men prefer to wear tights posing as workout shorts. Other men prefer a roomier, casual fit in the gym. Shorts that would fall into the loose liner category would be Vuori's Kore Short.
For me personally, I fall somewhere in between. When running, I appreciate a compression liner to secure the jewels, prevent chafing, and keep my legs fresher. But I also have to have a full range of motion to be able to run comfortably.
My initial impression after wearing Lululemon's Pace Breakers is positive. Surprisingly, the updated version was not as tight around my hips. In typical Lululemon fashion, the quality comes from two main places—the moisture wicking fabric and details in the accessories.
The Pace Breaker short wears comfortably soft. Using this lightweight, recycled material is almost see-through when you put it to the light. This means these shorts are breathable, stretch pretty well, and will keep you cool during your workouts.
Being crafted with woven polyester, the Pace Breakers are not as stretchy as its knitted counterparts (e.g. T.H.E. Linerless Short). Overall, the balance of comfort and durability is a selling point for me.
What material are the Pace Breaker Shorts made of? The Pace Breaker Shorts are made of 86% Recycled Polyester, 14% Elastane (Spandex).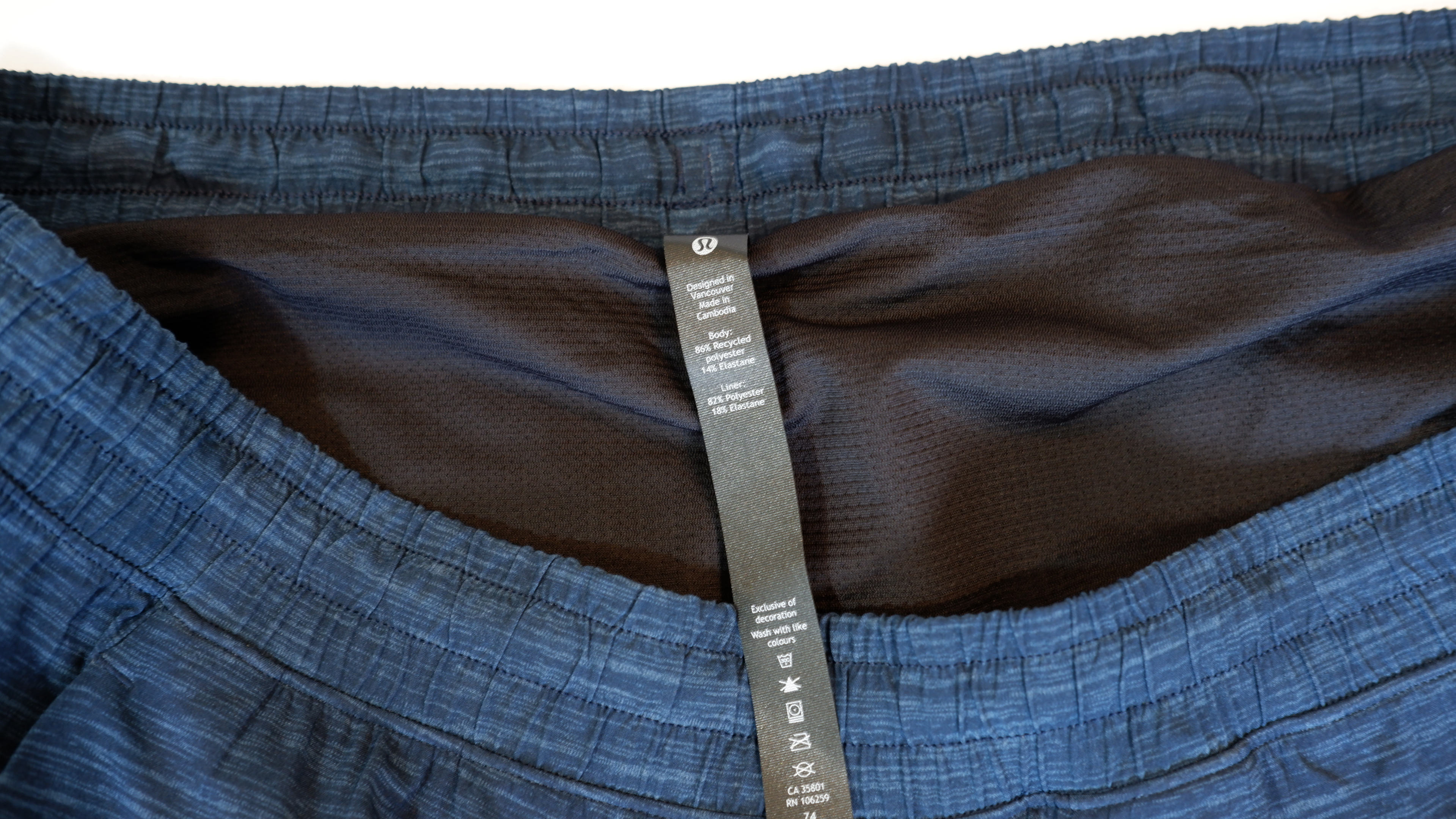 Other features of these workout shorts include a low bounce zippered pocket on the side, an inside phone pocket on the liner, and quick drying. Although these aren't the most feature rich shorts in the market, they do a lot of things well.
Uses and Design
"A performance-driven short reimagined for maximum comfort," is the tagline for the Pace Breaker Shorts. While these are a clear upgrade from the traditional mesh gym shorts, there isn't anything "reimagined" or "revolutionary" other than the price.
The Pace Breaker Shorts is just a good pair of activewear shorts with some interesting colorways. I like some of their funky color combinations including the Infuse Texture Chambray Multi and Bone.
The obvious use case for these is running and gym. It's apparent in the name. But they are versatile and lightweight enough for other sports. I play a lot of active sports such as basketball, soccer, and Crossfit every once in a while. I appreciate how important great workout gear is. The Pace Breakers would perform nicely in all workouts.
The style and design is where these shorts shine. The pockets were a nice size but unzippered. The most prominent design feature is the U-shaped mesh carve-out. This feature enhances the airflow through these already breathable shorts. In some styles, the mesh is a different color creating a complementary look.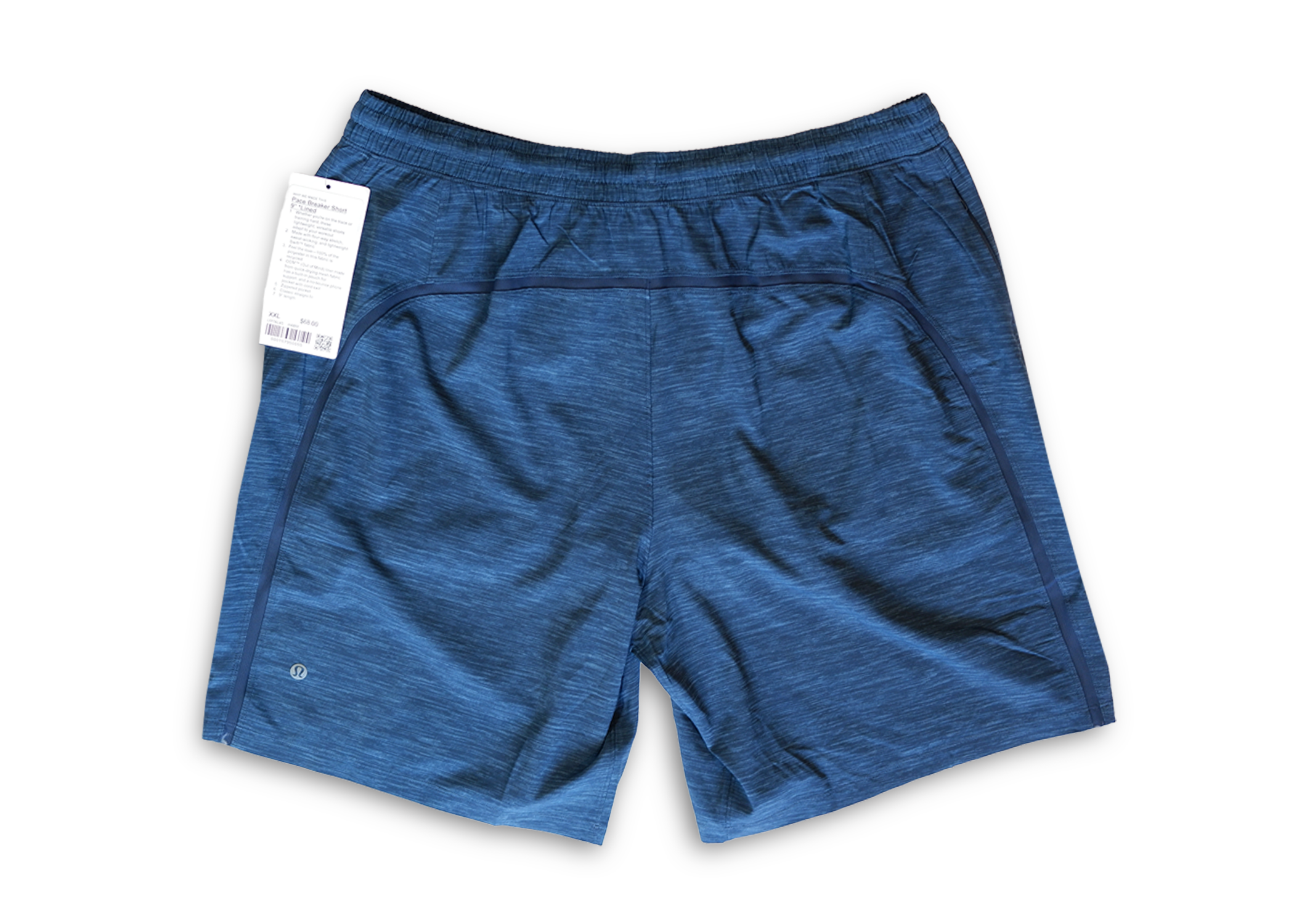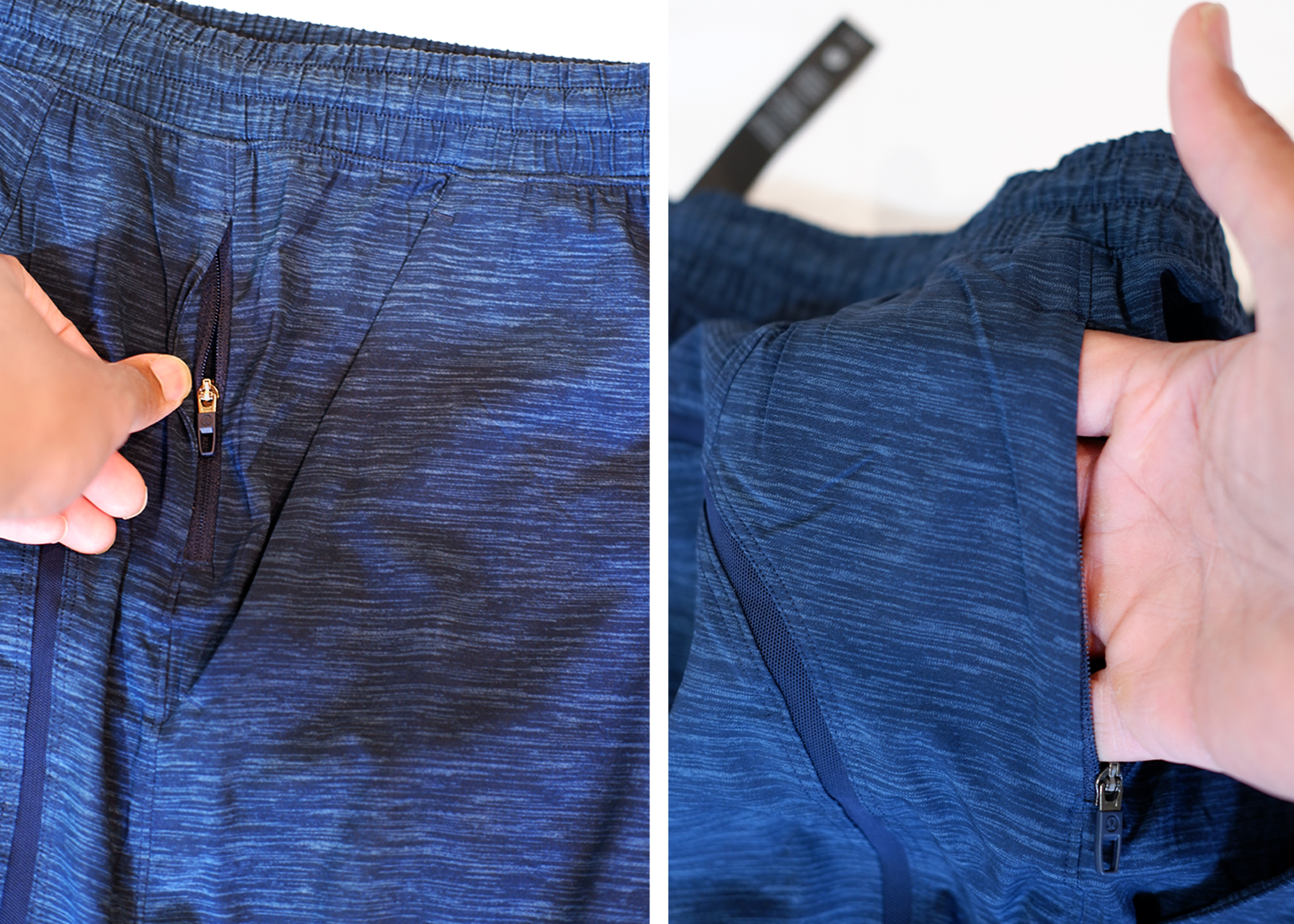 Summary
The bottom line is Lululemon makes a great pair of running shorts. They will minimize sweat and offer enough stretch to be comfortable. There is more than enough room around the thighs. And offer a number of colorways to suit anyone's style.
In the reviews, multiple runners use the Pace Breakers as their go-to running shorts. Compared to the T.H.E. Linerless Short, they are roomier, more durable, and moisture wicking. The breathable material and design make these a great option for gym shorts.
High points are soft, lightweight fabric, comfortable boxer brief liner, and stylish design. The U-shaped mesh gives it a standout factor.
Low points are the sizing issue for some men and the high price tag.
I like having more pockets (especially back) and zippers on them to secure my stuff. But these are running shorts. Many runners either don't want the extra bulk and freedom from unnecessary items.
Lululemon T.H.E. Linerless Short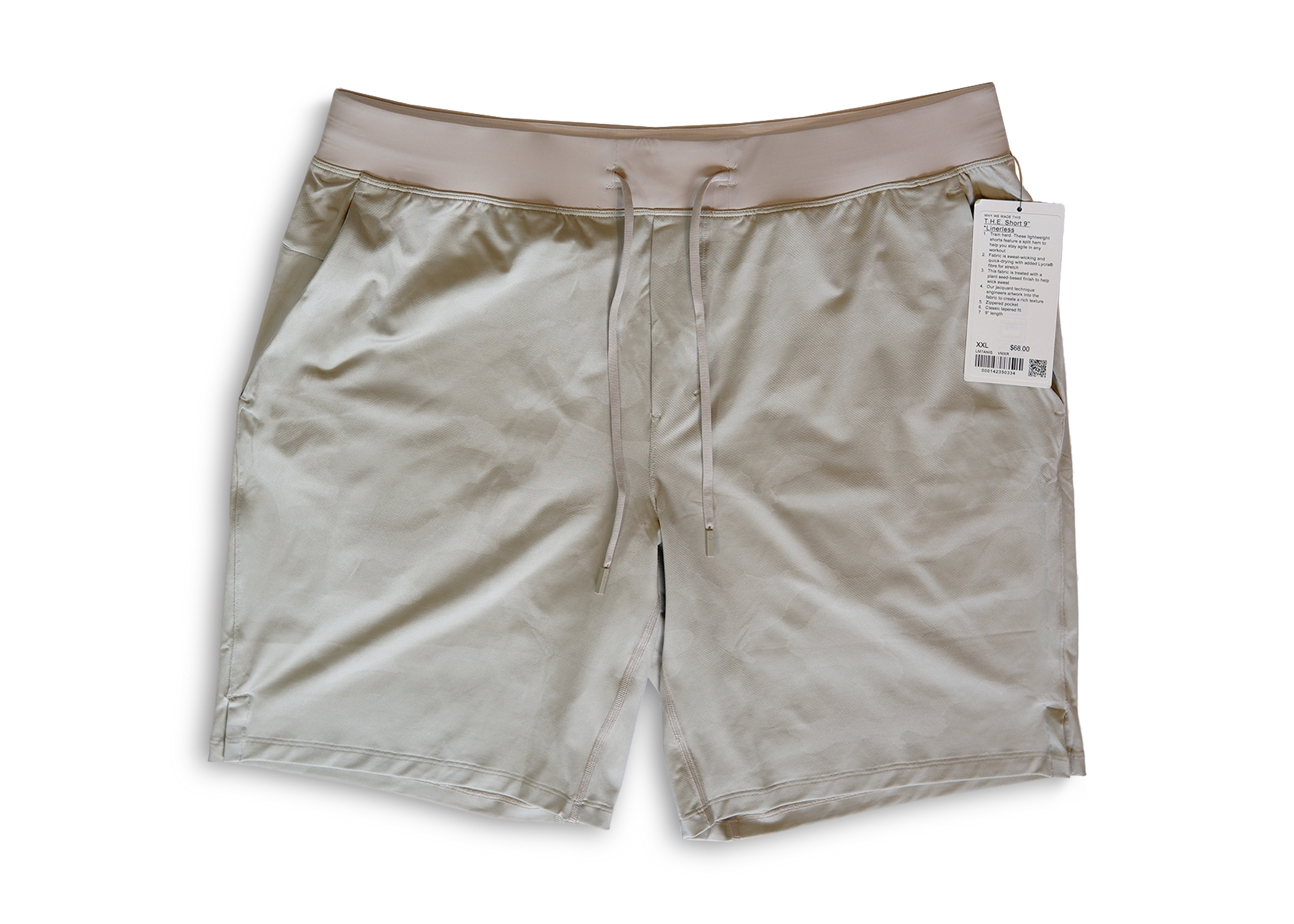 Price
$68
The T.H.E. Shorts are $10 cheaper than the Pace Breakers and $20 cheaper than the License to Train Shorts.

Reviews
668 reviews with a 4.1 rating
While not as popular as the Pace Breaker Shorts, the T.H.E. Shorts remind me of the traditional polyester mesh I used to wear in high school basketball practice. But a little higher end.
The positive reviews centered on being simple, minimalistic, and airy. The negative reviews centered on the tight fit and thinner, less durable fabric.
Here are some of the selected reviews.
The Good (5-star reviews):
"Easily the best ath-leisure shorts on the market. Super durable, great for working out & running errands before & after."
"My husband says these are the best ever shorts for pickleball. He has 3 pair now. Light and airy."
"Great shorts, especially now that the pace breaker is bigger but we need shorter options"
The Bad (1-3 star reviews):
"As other reviewers have pointed out, Lululemon seems to have "updated" these with a thinner, less durable fabric, and every pair I've owned since has started to show signs of wear after a few weeks. Unfortunate, since this is easily the best short Lululemon makes."
"The fabric quality…has decreased as the shorts are already pilling. I have other pairs of T.H.E. shorts which are much older and still look brand new."
"Mine are way to small and it's annoying"
The Fit and Feel
Even by Lululemon's sizing standards, the Lululemon T.H.E. Linerless Shorts are tight around the waist and thighs. Men who either like a tight fit or have a slender build will appreciate the slim fit.
The T.H.E. Shorts suffers from the opposite problem than most of their joggers. Reviewers complain they are too long. Unfortunately, Lululemon doesn't offer the 5" inseam length in this style. They come in both 7" and 9".
Other styles such as the Surge Short comes in a shorter 6" length. The Pace Breaker comes in a 5" inseam which will be daisy dukes on a taller guy.
Another key difference between the T.H.E. Shorts and the Pace Breakers is the fabric feel.
The Pace Breakers feel more technical (swishy). While the T.H.E. Shorts are just typical soft-feeling breathable short (meshy). The Pace Breaker feel more durable. While the T.H.E. Short feels more comfortable and stretchier. This is mainly due to the knit construction and spandex content.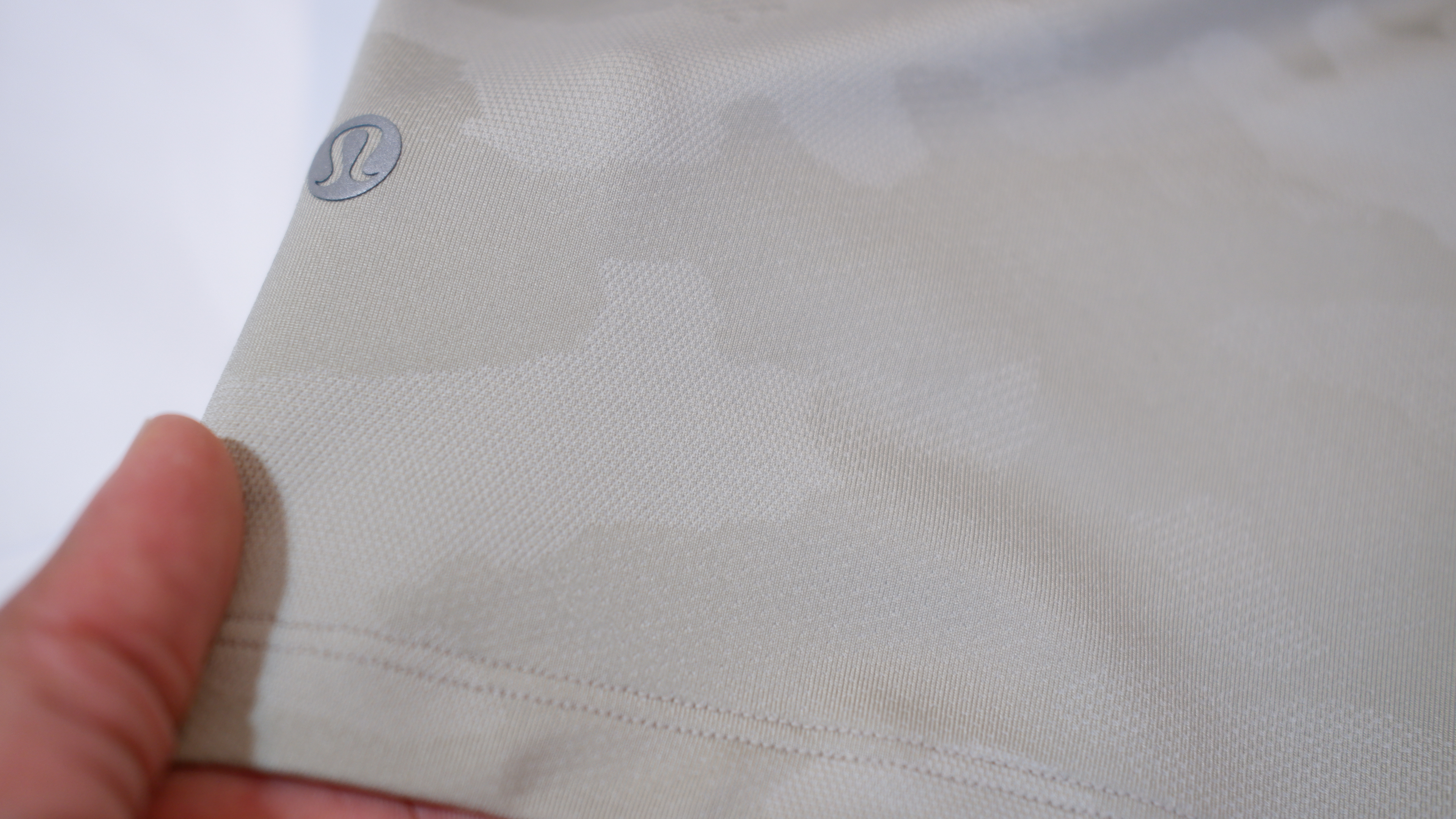 My impression after wearing these is slightly positive. The comfort was definitely there. But as many reviewers pointed out, they are way too small. They are not designed for bigger, muscular men.
I've grown accustomed to wearing technical shorts while I work out and yoga. I enjoy the balance between comfort and durability. With that being said, I think the T.H.E. Shorts have moved me toward re-incorporating a tri-blend, breathable short back into the rotation based on the exercises I'm doing.
They aren't as light as a woven technical short but much more breathable. Fabric-wise, holding both the Pace Breaker and T.H.E. side-by-side, the T.H.E. Shorts felt like butter. But slightly heavier. It would be interesting to compare both with and without lining.
I understand what other reviewers were saying about the quality issues. By paying $68 for a pair of workout shorts that are susceptible to snags and pilling. That is a cause for concern.
What material are the T.H.E. Linerless Short made of? The fabric composition is a woven fabric–65% Nylon, 22% Polyester, and 13% Elastane (Spandex) in some styles and 86% Recycled Polyester and 14% Spandex in other styles.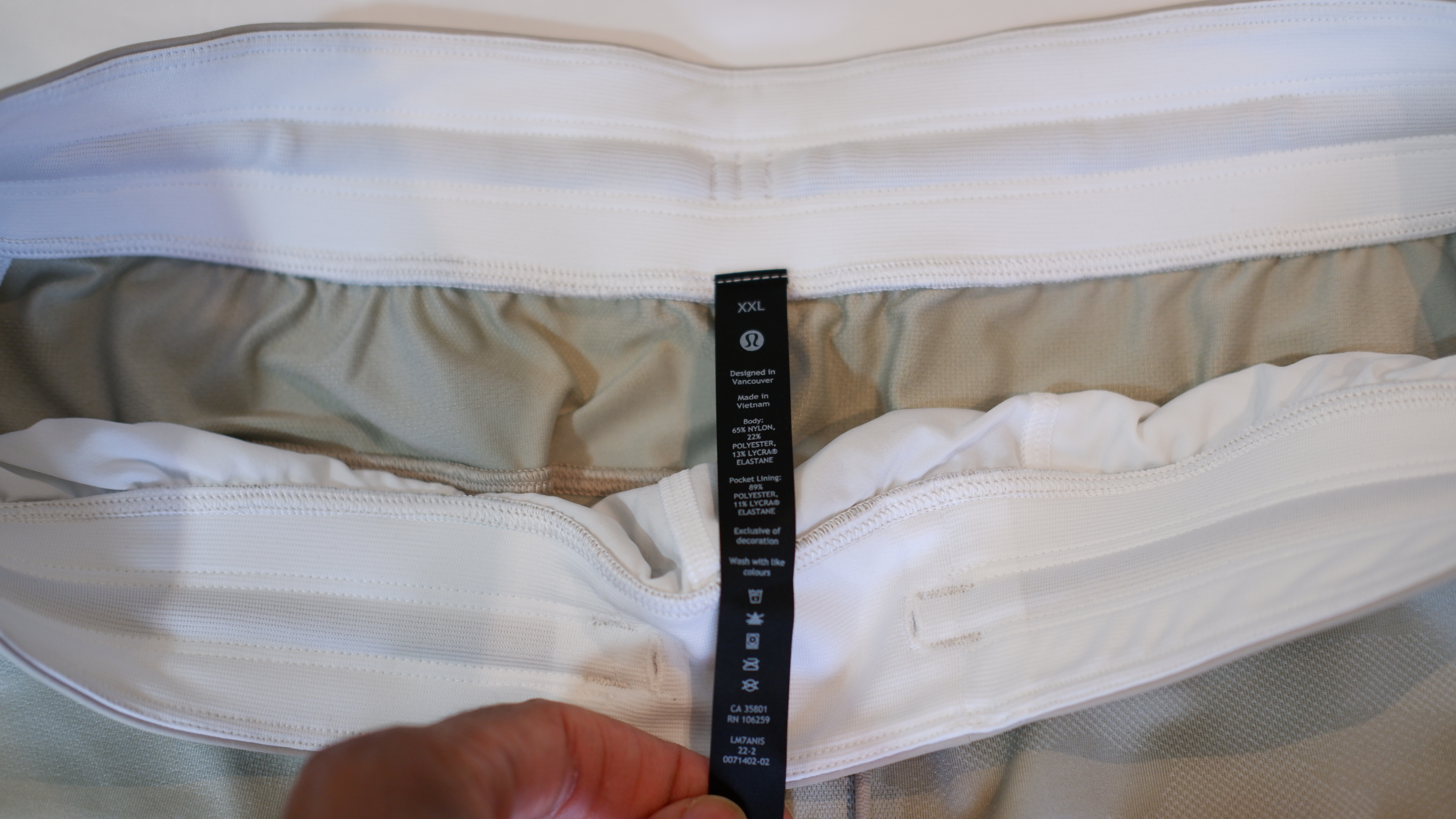 Uses and Design
"Train. Hard. Every. Day." is the tagline for the Lululemon T.H.E. Shorts. Even though these workout shorts are designed for training, the breathable and comfortable materials make these house approved loungers. And women love stealing them for their significant others.
Out of all the high-end shorts I've reviewed, these shorts are in the upper echelon for fabric comfort. I can't say for overall comfort because even the XXL are tight on me.
The design is minimalist which I like. The only three features that makes them different is the split hem bottom, the smooth waistband, and the inside-out drawstring.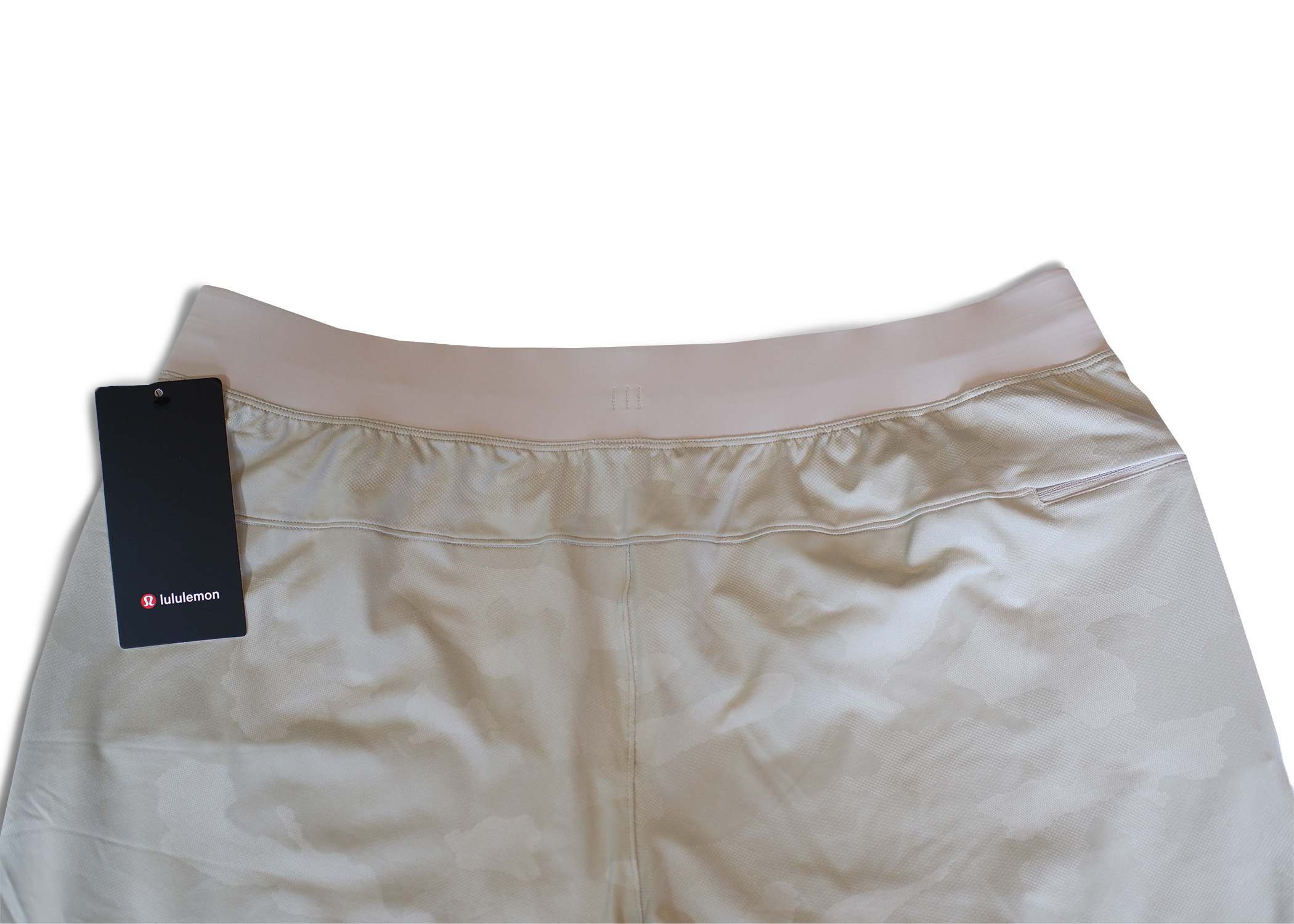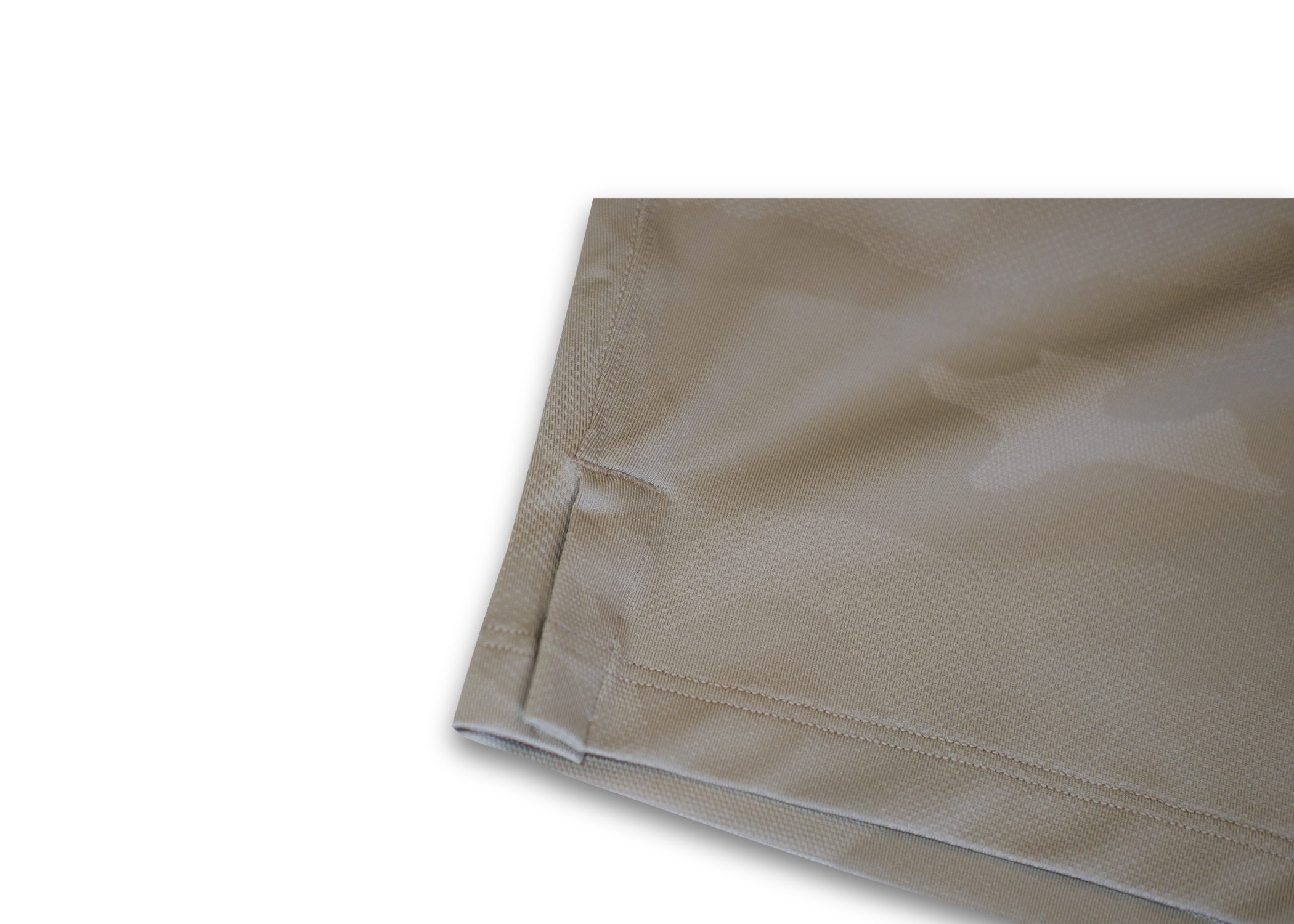 As always with Lululemon, they have a lot of interesting colorways. I bought the beige camo. The color was subtle almost non-distinguishable. (Update: I don't see my particular colorway available anymore).  
That's one of the many marketing genius moves by Lululemon. They frequently try out and retire colorways and even styles. So if you like something from them, it encourages you to buy more! 
Summary
The bottom line is T.H.E. Short is a damn comfortable pair of gym shorts….if you are a smaller, slender guy. The fabric feel midweight and luxurious. They have a lot of stretch, but they won't retain their shape like many other premium shorts.
I can see these being popular for the more traditional gym crowd or the home loungers. They are very comfortable and traditional in their offering.
Just like the Pace Breaker Shorts, I'm not crazy about the price. The T.H.E. Shorts are just a traditional pair of shorts done right. The Pace Breaker Shorts offers more features to a concentrated niche to justify the price.
If you are deciding between the Pace Breakers and T.H.E. Shorts, design preferences aside, it will mainly have to do with your primary workout.
If running is your main use case, then the Pace Breakers make the most sense. They are lighter and more durable. If you lift and prefer a more comfortable short rather than a performance-focused one, then the T.H.E. Linerless Short will be a great option.
If you are looking for the best of both worlds…
Active Workout Shorts by Rugged Black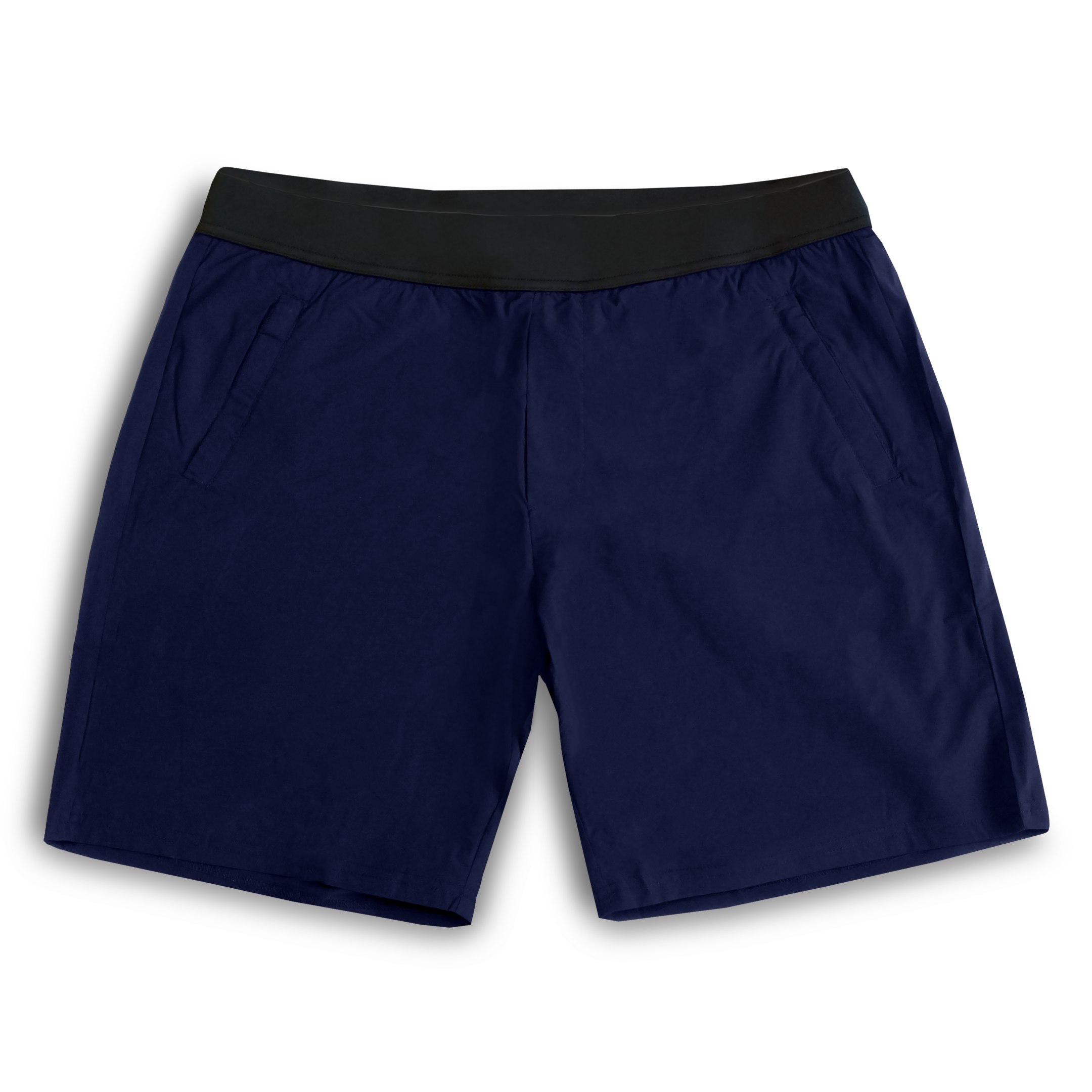 Price
$59
RuggedBlack's Active Workout Shorts are around $10 cheaper than premium category of athleisure brands. Even more when you use the promo code in this article.

Reviews
Our Active Workout Shorts have great reviews, all verified as genuine. All of them 5 stars.
The Good (5-star reviews):
"These shorts are the best I've found by a country mile…Moves great, feels soft, and breathes"
"I absolutely love how well they fit, and more importantly, how flexible and breathable they are. No crotch sweat!!"
"Was swayed to purchase Rugged Black shorts as a result of the excellent comparison between Ten Thousand shorts (a well-known, great product) and Rugged Black displayed in full transparency on this site. I find the shorts to be of excellent quality as depicted in the comparison and a much better buy for the price than any other workout short on the market to include Ten Thousand. The quality of material, careful details (i.e. zipper pockets), and overall fit are exactly what I was looking for."
The Bad (1-3 star reviews):
No negative reviews to date.
My areas of improvement for this product…add dedicated phone and key pocket on the inside and add more color options.
In addition, we offer a money-back guarantee, free returns, and exchanges for all of our products.
The Fit and Feel
As a brand, RuggedBlack caters to a bigger build than the traditional slim profile that Lululemon and Vuori targets. While I didn't have a problem fitting into the Pace Breakers. I had trouble fitting into the T.H.E. Shorts even though they were both XXL. Neither pair weren't unwearable. They they did restrict movement. But I prefer the right amount of mobility and comfort in my activewear shorts.
The fabric feel of the Active Workout Shorts is like the Pace Breakers with the enhanced durability. They are ultra lightweight and have enough stretch to be comfortable. The durability factor comes from the woven construction of the fabric—like the Pace Breakers. And with the smooth comfort waistband, it eliminates bunching.
Instead of using polyester, the Active Workout Shorts uses nylon. Nylon is superior to polyester in the workout use case due to nylon being softer, more durable, and stretchier. Polyester dries faster and less likely to pill. But overall, nylon performs better for workouts.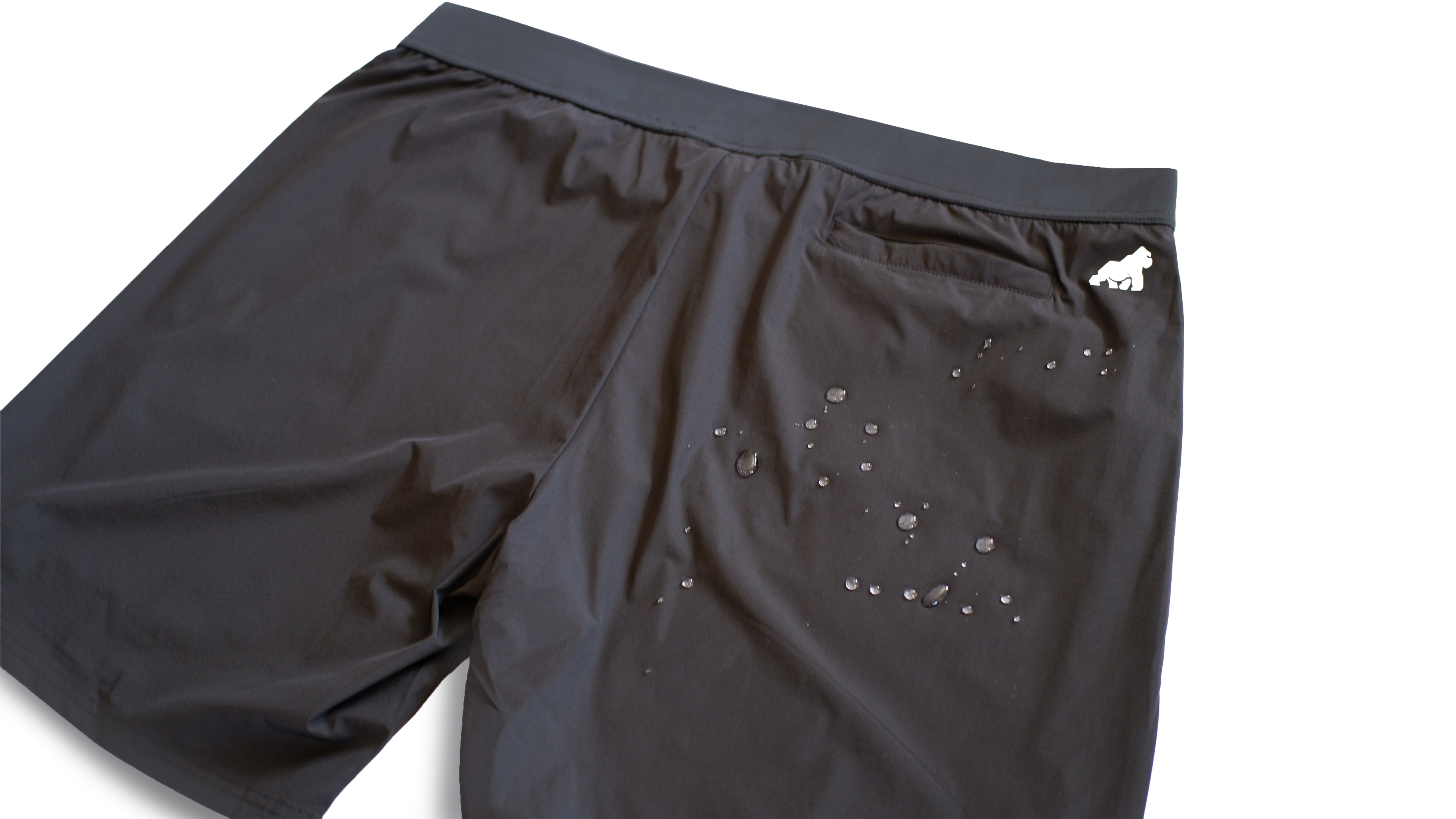 Uses and Design
Similar to the Lululemon shorts, the Active Workout Shorts are made for high-performance training. We've found that men who live in the gym appreciate a product specifically designed for physically demanding workouts. These shorts enable performance mobility, comfort, and flexibility during your training.
Some activities we've tested these short are running, interval training, basketball, and yoga. Each time we compared them to the most popular option. There was no comparison. They seamlessly transitioned from training to lounging. Reviewers loved lounging in the super light workout shorts.
The only complaint was repeated thief by significant others.
A few unique features that set them apart from the cheaper alternatives are zippered side and back pockets, waterproof finish, smooth comfort waistband, and a compression liner. In the updated versions of the navy and black, the quads have a split bottom to give more movement and versatility. Each colorway comes in both lined and unlined styles.
Summary
Our Active Workout Shorts offer a great hybrid alternative to the two Lululemon offerings above. When compared to the bestselling Lululemon workout shorts, the Active Shorts offer more features, comfort, and performance at a much better price. You save over $20 per pair.
Purchase these shorts if you want the best exercise shorts available. If you exercise more than once a week, consider purchasing a few pairs. You won't regret doing so. There is a money-back guarantee and warranty on the workmanship.
Which shorts should you buy?
In the spirit of fairness, I will recommend each pair of shorts for different scenarios. But I do believe the Active Workout Shorts offer a superior experience. If you are a guy with a muscular, athletic build, I believe you will appreciate the better sizing and compression liner of the Active Workout shorts.
Here are the scenarios I would wear each of these shorts:
For the gym: RuggedBlack Active Workout Shorts
For runners: Lululemon Pace Breaker Short
For straight chill comfort: Lululemon T.H.E. Linerless Short
If you liked this review and wanted to try a pair of our workout shorts, use LUPBTBP30 for 30% off a couple pairs.