Vuori has absolutely been killing it. From a men's high-end activewear perspective, they are quickly becoming the de facto gold standard passing Lululemon. Today, we are reviewing their new Kore Jogger and update our Sunday Performance Jogger Review. Are they worth it? Let's find out.
I have a 3-year old son, so I spend on playgrounds. Running an activewear business, I take note of the brands parents wear. Lululemon is standard attire for the yuppie millennial active lifestyle parent. About a year ago, I started to see a massive change of brands especially with dads. Vuori with their ubiquitous V logo seem to be popping up everywhere both with men and women's joggers. It's a testament to their exceptional products, marketing, and massive $300 million cash infusion from Softbank.
I've previously reviewed a lot of Vuori products--the bestselling Sunday Performance Jogger, Kore Shorts, Ripstop Pants, Transit Joggers, Ponto Performance Joggers, etc. I'm always excited to review extensions of their product line.
It's becoming standard for activewear companies to see their products as lines rather than standalone products. For example, Vuori's Ripstop Shorts, Ripstop Pants, Ripstop Jogger. A group of products centered around a fabric, feel and use case.
This makes it easy for repeat buyers to know how a fabric will fit and feel without buyer the product extension. I immediately knew what to expect of the Kore Jogger based on my experience with the Kore Shorts—thin and light fabric, active use, tighter, athletic fit.
Today, I'm going to review the new Kore Joggers, update the review of the Sunday Performance Jogger, and determine if each product is worth the $100 price tag.
And as always, we're going to give you "dupe" from our lineup.
Leggo.
Vuori Kore Joggers
Price - $98
Here is a list of the most comparable products from other high-end athleisure brands. To generate comparables, I used my experience with each of these to mimic the same fabric feel and function.
Reviews
82 review with a 4.4 star rating
This is wild. When I first started writing this review, there was only one review. Fast forward a couple weeks, there were 82. I've accused Vuori of this before, but they do a horrible job of review clean up. They duplicate reviews a fair amount inflating their numbers.
The Good (5-star reviews):
"Amazing! Super comfy! They are super comfortable with the linear and are loose which I like so they don't suck the life out of my legs."
"These are incredibly comfortable pants! Very lightweight - feels like you're almost wearing nothing at all! Recommend to everyone!"
"Excellent addition to Kore. Great compliment to Kore shorts. It was a little snugger than the short, so a size up might have been better."
The Bad (1-3 star reviews):
"The joggers are too small."
"I bought both a black and charcoal grey for my husband. He is 6ft 3 inches tall, and 215 lbs. The X large was a perfect fit except for the fact they were too short. Great color and fabric. Unfortunately, I had to return these pants. Vuori needs to offer the Kore Jogger for men in longer and/or taller sizes."
"They hang super low in the crotch, and then are crazy short on us… just terrible fit on us taller people."
From my personal standpoint, I would rate these around 3.5-4.0 stars.
I will go into detail of my experience with the Kore Jogger in the sections below. But my reasoning for taking away stars would be
subpar value,
tight fit, and
potential durability issues
If these hold up, I would definitely rate these closer to 4 rather than 3.5. And will revise this review.
The Fit and Feel
I'm in the Big & Tall camp. I'm over 6'2" and 245+ lbs. My experience with the Kore Joggers will differ from most men. With almost everything that Vuori produces, I'm rocking their biggest size - XXL.
Even when I wear the largest size in Vuori Mens, XXL, they are still tight. Vuori joggers run small. The Kore Joggers waist fits comfortably, but the thigh area hugs my legs. That's something to keep in mind if you don't skip leg day.
The product description says the inseam length of these are 28.25 inches. Which is great for anyone who is 5'6" or below. Or you don't mind rocking capri style of pants.
Given that my usual inseam length is 34 inches (and I prefer a little more ankle coverage), these joggers won't even my upper ankle.
Overall, the fit is terrible for me as a big guy. I felt if I did a squat or anything active in the Kore Joggers, the paper thin fabric would rip in half. I wish they had more of a relaxed fit.
The fabric itself feels nice to the touch. Which is great for a performance jogger. Exactly like the Kore Shorts, they are lightweight, a little stretchy, and technical. This woven fabric is all about performance. It's lightweight and low gsm makes these comfy joggers.
The fabric composition is a woven fabric–48% Recycled Polyester, 42% Polyester, and 10% Spandex (Elastane). 
Uses and Design
"Ultimate Go-Anywhere Comfort," is the tagline for the Kore Joggers. Clearly as performance jogger, Vuori wants to capitalize on the popularity of their bestselling Kore Shorts. I previously reviewed the Kore Shorts and absolutely loved them.
The Kore Shorts blurred the line between gym attire and athleisure. The joggers do the exact same thing. A more modern jogger style that's still comfortable.
The minimalistic design is great. They feel great. I would venture to say that the Kore Joggers are one of the most versatile pair of joggers that I have ever come across.
The only thing that gives them away as men's joggers is the outside drawstring. I can see men wearing these comfortably at the tee, at work, at a restaurant, and in the gym.
The only thing I wouldn't do in the Kore Joggers is run in them. I can't help but to feel these joggers won't hold up to heavy use. While they're not completely see-through, when you put these to the light, it shines through.
Fabric as thin as the Kore Joggers snags, rips, and chafes easily. Case in point, read the reviews for Lululemon's Surge Joggers. These are a great dupe for the Kore Joggers.
Summary
The bottom line is Vuori's Kore Joggers are a great addition to Vuori's lineup. They took all the great things about the Kore Shorts and made them into comfy joggers. They are great for the gym. Great for wearing out. The fabric is lightweight and stretchy. The materials feel high quality but very light and thin.
I wish they came in a liner-less version. I personally don't prefer liners with my joggers.
For bigger and/or taller individuals, I would probably skip these. If you are like me above 6'0", they are tight and short. But if you are a smaller guy, these are a great option for a pair of the most versatile pair of joggers I have come across.
Vuori Sunday Performance Jogger
Price - $98
The last time I reviewed Vuori's Sunday Performance Jogger they were 10% cheaper.
It seems their pricing strategy is to be 15-20% cheaper than Lululemon.
Reviews
8,800+ reviews with a 4.8 rating
Since the last time I did a review, they have added 5k reviews! That means the Sunday Performance jogger are flying off the shelf.
The Good (5-star reviews):
"Excellent quality. Great color and fit. Versatile joggers for many occasions. Highly recommend."
"Slightly heavier than the Ponto Performance Pant...great for a slightly cooler day or evening."
"It's hard to find a comfortable, classy looking jogger and Vuori has out done themselves!!"
The Bad (1-3 star reviews):
"Like the fit but way too short in length. Sending back."
"Designs used to be better, more colorful, nicer quality. Keep an eye on quality... success doesn't last forever."
"They hang super low in the crotch, and then are crazy short on us… just terrible fit on us taller people."
The Fit and Feel
I wore the Sunday Performance Jogger off and on for over a year. I probably wore them a dozen times and washed them around 8-9 times. They are durable.
However, I didn't do any strenuous activities in them such as running or playing basketball. I used these more for casual wear. So, I didn't test the "performance" part of the Sunday Performance. None of the reviews talked about piling. A big thumbs up for a pair of $100 joggers.
These joggers are made of a light mid-weight knit fabric–88% Polyester and 12% Spandex. Polyester is soft material resists piling well.
A lot of reviews mention how incredibly soft that the Sunday Performance Joggers are. I didn't really think so comparing them to other offerings by Rhone, Public Rec, and Lululemon. The Sunday Performance fabric strikes a good balance of performance and comfort.
They aren't the softest, best joggers. I've felt. That's the Vuori's Ponto Performance. They aren't the most technical, performance-focused joggers either. That's Lululemon's License to Train.
Not great in any area. Good in all areas. That's why the reviews mention how versatile these are.
Vuori's Sunday Performance Joggers absolutely nails the relaxed fit here. Modern men seem to prefer a more tapered fitting jogger rather than the old-school baggy ones.
I complained about the tight fit of the Kore Joggers. That's not the case with the Sunday Performance.
I have ample room around the waist and thigh areas. No restrictions with maximum comfort. But like many other reviewers, if you are a tall guy, these are going to be too short. Vuori needs to release a tall version. The one 28" inseam length is problematic for tall men. Then again, they seem to be doing just fine.
Uses and Design
I feel comfortable wearing the Sunday Performance Jogger in all but the most formal situations. Right up to business casual clothes. Without the side thigh pocket, they could be worn there too.
The Sunday Performance Joggers are comfortable without looking like pajamas. As mentioned in the introduction, I see a lot of Sunday Performance Joggers at the playground with my son.
The sporty design with distinctive look is easy to spot.
You can wear these joggers while running errands, going for a walk, hitting the gym, or just lounging around the house. Reviewers have commended the joggers for their flexibility in terms of styling.
The Sunday Performance Joggers set the standard of the modern activewear jogger style, with traditional styling. Traditional meaning the ribbed elastic waistband and cuffed bottom.
The light midweight fabric makes them perfect for brisk mornings and Fall weather. The sweet spot for me is between 55-75 degrees.
If you live in a colder climate, you will probably want to opt for jogger with more fleece, cotton, or technical, non-breathable fabric.
It's just a trade-off you have to make. The lightweight fabric does wonders for breathability. A brisk morning run requires an under layer to keep you warm.
If you are over 6'0, your ankles will be exposed which is great during the summer. Not so much during the cold.
The casual cut of the Sunday Performance Joggers give you more room in your hip and thigh area. Then they taper down around the calf and ankle for a more modern fit than the straight leg cotton joggers.
A lot of reviewers loved that they are casual fitting without being too baggy. Again, they NAILED the casual wear fit for me.
You'll love the functionality and design of these joggers which include a faux fly, drawstring waistband, moisture-wicking fabric, and zippered back pocket.
Summary
The Sunday Performance Jogger is Vuori's bestselling selling men's product for good reason.
With its four way stretch and ultimate comfort focus, these are a great, versatile option for men. Their popularity reminds me of women's black stretchy leggings. They check all the boxes for what you want in "athleisure joggers."
As stated in multiple negative reviews, the inseam length can be problematic for guys over 6'0". You have to be okay with the bottom cuff hitting significantly above your ankle.
They only come in 28" inseam which is way too short for tall guys.
The Kore Jogger is a dupes of Lululemon's Surge Jogger. But it seems Lululemon ripped off Vuori's Sunday Performance with their Soft Jersey Tapered Pant. That tells you something about the popularity of the Sunday Performance.
RuggedBlack Comfort Max Jogger 
Price - $78
At $78, RuggedBlack's Comfort Max Joggers are 20% cheaper than Vuori's Sunday Performance Jogger. With all the same features.
Reviews
We are releasing the Comfort Max Joggers in the Fall. Because this is a new casual wear product, there aren't many independent reviews on our other joggers.
The Good (5-star reviews):
"These joggers are the best I've ever owned. They are soft, comfortable, durable, and looks great."
"Great fit, quality fabric and holds up during workouts…"
"Best Joggers on the market"
"You've got to give these a try. You won't believe how comfortable they are…"
The Bad (1-3 star reviews):
Some customers returned preferring a shorter inseam length.
Lack of color options.
Lack of reviews compared to competition.
The Fit and Feel
Similar to the Vuori's Sunday Performance Joggers, the Comfort Max are very comfortable and durable. Before release, I tested our joggers for 9 months in various scenarios from lounging to working out. They perform and feel better than comparable joggers from Lululemon, Vuori, and Public Rec.
The main reason we upgraded the Comfort Joggers to the Comfort Max is we wanted to improve the fit, add a pocket on the leg, and add a zippered pocket.
The Comfort Max joggers are made of the same fabric composition as the Sunday Performance–88% Recycled Polyester and 12% Spandex.
The only difference being our joggers have the added benefit of being sustainably made, which is more expensive than regular polyester.
We received feedback that our product tend to run big. So we upgraded the fit and sized down our size chart. The upgraded fit includes two main features—a shorter length option and more athletic cut than the Comfort Joggers. So that means the Comfort Max will be a slimmer fit than the regular Comfort Joggers. Before the shift, I wore a XL in RuggedBlack and XXL in Vuori.
This brings us more in line with the fit that reviewers love so much about Vuori.
Another key difference between the Sunday Performance and Comfort Max is the inseam length. The Comfort Max feature a longer length—an additional 2" inches.
The Comfort Max come in both a 27" and 30" inseam length.
Uses and Design
We designed the Comfort Max to be your go-to casual joggers. We prioritized comfort and function with this product. The side thigh pocket makes them sportier than the previous Comfort Joggers. The right side pocket has an additional zipper pocket to hold your keys in a separate pocket than your phone. I've scratched my phone so many times, having them in the same pocket.
During the Fall and Winter months, I wouldn't hesitate to workout, lounge, or throw these on for the playground in the Comfort Max. That's due to the strength of the polyester fabric, resistance of wrinkles, and the mid-weight thickness.
The same as the Sunday Performance these joggers will be most comfortably worn between 55-75 degrees.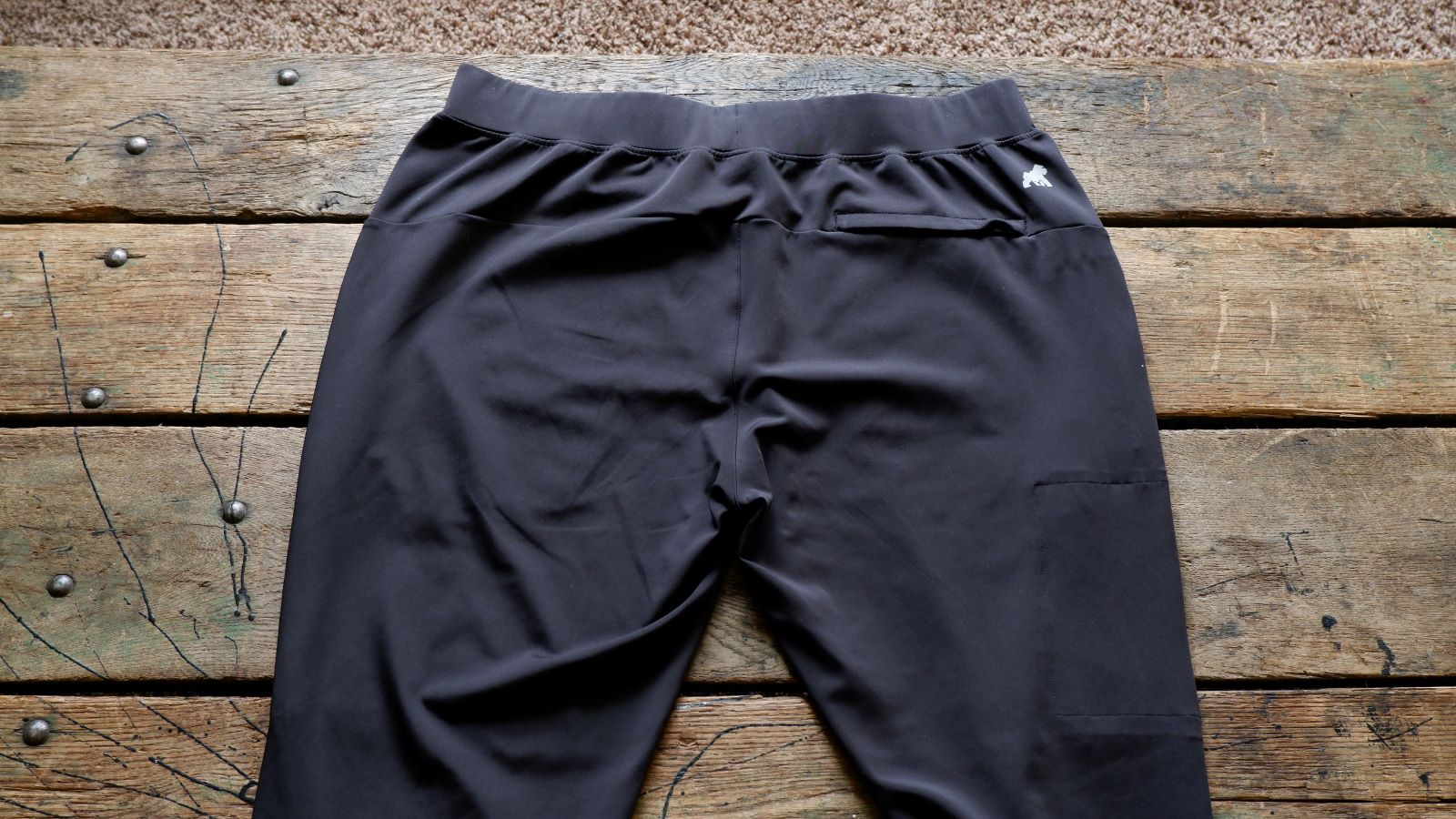 Summary
The Comfort Max Joggers provides the same fabric, comfort, and features as Vuori's Sunday Performance Joggers at 20% less. But I hesitate to call our joggers Vuori dupes.
We honestly think we offer a better product/evolution to some of their offerings. We have additional benefits that Vuori does not.
1.       We use
recycled, sustainable fabrics
(more expensive).
2.       We offer a
1-year warranty
(better value).
3.       We offer
inseam length options
and
zippered pockets
(additional product features).
Currently, we don't have a product with the same fabric feel as the Kore Joggers. For a worthy alternative, for a slightly higher price, look at Lululemon's Surge Jogger.